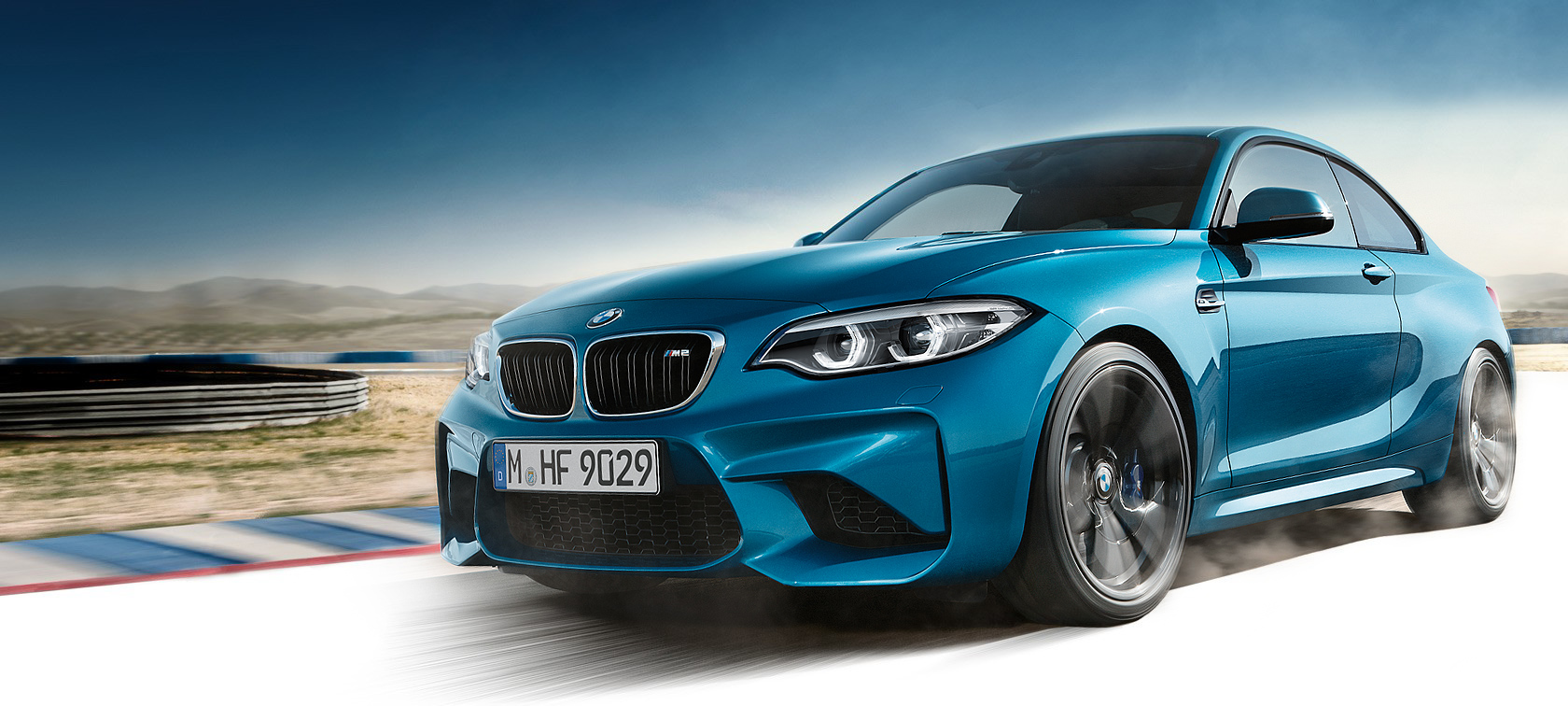 CUTS CORNERS INTO PIECES.
CUTS CORNERS INTO PIECES.
Driving dynamics & efficiency of the BMW M2 Coupé.
Built for spontaneous sprints and sharp bends. An extreme driving experience that you won't forget in a hurry. With its outstanding agility, top-quality dynamics and striking sound, the BMW M2 Coupé is a typical M automobile. With an optional 7-speed M double-clutch transmission for extra-quick gear shifts. With M compound brakes designed for the highest loads. With the standard-feature Active M Differential for maximum driving stability and traction. In short, a vehicle created to dominate wherever it drives.
6-speed M transmission.
Designed to be both light and compact, the M 6-speed manual transmission is synonymous with intelligent lightweight construction. Inside the transmission, the new carbon fibre friction lining in the baulk rings provides more comfortable gear shifts, and a dry sump lubrication system ensures a more efficient supply of oil.
7-speed M DCT with Drivelogic.
Shift gears without losing power, using the clutch or slowing down: the 7-speed M double-clutch transmission with Drivelogic. Gears can be changed automatically or manually using the gearshift paddles on the steering wheel, or the gear lever. Launch Control guarantees maximum acceleration from a standing start.
ACTIVE M DIFFERENTIAL.
The Active M Differential variably distributes the drive torque between the two rear wheels to optimize traction and driving stability during dynamic lane changing or accelerating out of curves, when making curves at high speeds or on roads with uneven surfaces, including on snow, gravel and ice. It even provides precise handling during extreme lateral acceleration. The constant, smooth adjustment of the differential lock harmonises the vehicle's driving performance, improving control in extreme driving situations.

Traction is optimized with the help of an electronically operated device that reduces the difference in revolution speed between the rear wheels. The system, which was developed for motorsport, is connected to the Dynamic Stability Control (DSC) via an electronic control unit. It proactively provides the perfect use of locking action between 0 and 100 percent, neutralising even the finest differences in torque between the rear wheels – without the tendency to understeer. The Active M Differential provides optimal grip as well as great directional stability and perfect handling, and it converts virtually all of the engine's drive power into acceleration.


RACING CHARACTERISTICS.
Irresistible dynamics, captivating agility, precise handling: Three features that have characterised M automobiles from the word go. The driving sensation in the BMW M2 Coupé is based on highly developed technology that was tested under the most extreme conditions possible, making the vehicle ready for the perfect sprint at all times and providing it with maximum grip. Important components have been optimized for use under conditions similar to motorsport and have been tested for maximum performance. DSC with M Dynamic Mode, electrical power steering with M specific Servotronic and the lightweight construction for the front and rear axle round off this captivating vehicle concept.
Racing capability

Lateral and longitudinal acceleration that occur in racetrack situations place particular demands on the oil supply. With their motorsport know-how, BMW M GmbH engineers have ensured a safe oil supply − in day-to-day driving and on the racetrack alike.

M Dynamic mode

M dynamic mode, a sub-function of Dynamic Stability Control (DSC), allows a certain degree of wheel slip, thereby noticeably improving driving dynamics. While DSC works against understeer and oversteer, the M dynamic mode enables the full exploitation of the car's maximum longitudinal and lateral dynamic potential. However, access to the support offered by DSC is retained.


M Servotronic

M Servotronic adjusts the power steering to suit the current speed and ensures a direct and precise steering response even at high speeds. It also ensures supreme comfort by minimising the physical effort required for steering, as well as maximising agility when parking, manoeuvring or navigating narrow alleyways or twisting roads.

M COMPOUND BRAKES.
M COMPOUND BRAKES.
Thanks to the use of various materials, M compound brakes achieve outstanding deceleration values and are extremely stable and highly durable. They also weigh less, which has a positive impact on agility, dynamics and acceleration. The Blue metallic brake callipers with the M designation are the hallmark of these high-performance M specific brakes.

270 KM/H
The M Driver's Package increases the top speed from the standard 250 km/h to 270 km/h. The M Driver's Package can be ordered straight away when purchasing a new vehicle or can easily be added on at a later date. All other technical data remain unchanged once installed. This also includes a voucher for BMW M Intensive Training as part of BMW Driving Experience. Should the M Driver's Package be purchased more than once then the Driving Experience training can be switched for a different training, including an additional charge.

INTELLIGENT LIGHTWEIGHT CONSTRUCTION.
BMW EFFICIENT DYNAMICS TECHNOLOGIES.
BMW EFFICIENT DYNAMICS TECHNOLOGIES.