BMW X5 M Competition, BMW X5 M, BMW X5 M50i.
Superiority in every discipline: the BMW X5 M Models manifest their claim to leadership with powerful proportions, exclusive M design and outstanding performance. Experience the four extroverted Sports Activity Vehicles (SAV): the BMW X5 M50i impresses with its unique combination of performance, comfort and efficiency. The BMW X5 M with M xDrive inspires with a luxurious interior and driving dynamics defined by motor racing genes. An adrenaline-charged driving experience that receives yet another boost in the even more powerful and flamboyant BMW X5 M Competition with M xDrive. European model shown.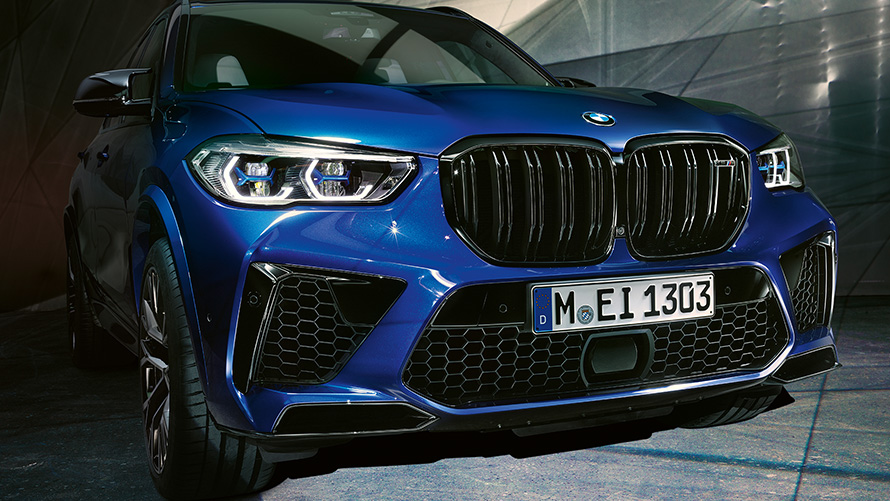 BMW X5 M COMPETITION AND BMW X5 M HIGHLIGHTS.
Click for uncontested dominance at a glance.
Maximum presence and unrivalled driving dynamics make the BMW X5 M Competition unique.

Markus Flasch, President BMW M GmbH.
DESIGN BMW X5 M COMPETITION.
Explore per click the design highlights in the interior and exterior.
With its powerful proportions and precise contours, the athletic exterior design of the BMW X5 M Competition achieves a tremendous presence. In the interior, luxurious materials and M specific highlights promise a unique, sporty and exclusive driving experience.
BMW X5 M Models: engines, equipment and technical data.
617 HP.
Sets the tone: The high-performance M TwinPower Turbo 8-cylinder petrol engine with a displacement of 4.4 litres and 617 hp is the most powerful of all engines in BMW standard production vehicles. Equipped with two twin scroll turbochargers, high-pressure injection and Valvetronic, the high-performance power unit inside the BMW X5 M Competition impresses both on the road and on the racetrack: 553 lb-ft. of torque, acceleration from 0 to 100 km/h in 3.8 seconds and from 0 to 200 km/h in 13.4 seconds.

BMW X5 M50i HIGHLIGHTS.
Leadership skills at a click: engines, exterior and interior.
DESIGN BMW X5 M50i.
Explore the exterior and interior highlights per click.
The BMW X5 M50i represenst power and authority. Athletic proportions, a low, broad stance and the distinctive contours clearly reveal the sporty ambitions at first glance. Reinforcing this impression are the striking M specific design elements in Cerium Grey such as the trapezoid tailpipe trims. In the interior, exclusive upholstery and premium fittings create a sporty and exclusive ambience.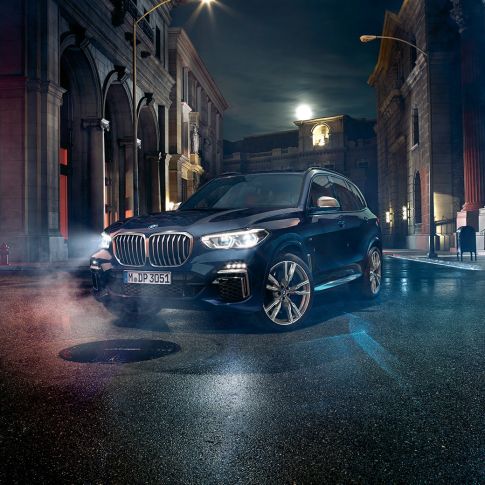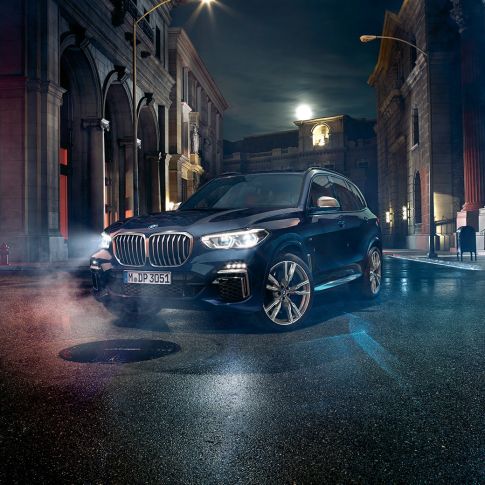 BMW X5 M50i: Engines, equipment and technical data.
​
Fuel consumption and CO2 emissions.