Join us to explore the world of BMW electric models and plug-in hybrids.
After almost five decades of research and development, we are taking the topic of sustainable and environmentally friendly mobility onto the road with a variety of electrified models. Alongside our all-electric models, such as the new BMW iX or the BMW i3 and BMW i3s, our fleet of plug-in hybrid vehicles guarantees the best of both worlds for every lifestyle and every need. Impressive ranges make electrified driving more flexible, convenient and attractive than ever before. As an automobile manufacturer, we are committed to the goals of the Paris Climate Agreement and have the ambition to be the most successful and sustainable premium supplier for individual mobility. After all, for us sustainability is not a trend but a call to action.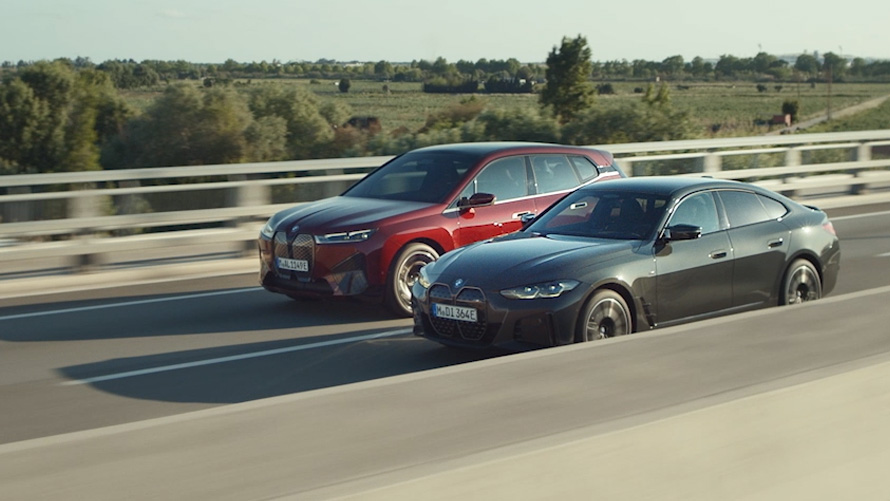 BECAUSE EVERYONE HAS THEIR OWN PATH INTO THE FUTURE.
Electromobility by BMW.
In order to provide the right answer for everyone, we at BMW have developed three different concepts for electrified and sustainable mobility: the electric model, the plug-in hybrid and the mild hybrid. In this way, we are creating a diverse and individually adjustable offer for all our customers, but we are also continuously improving the ecological balance sheet of our entire vehicle fleet at the same time.

European models shown below.
THE ELECTRIC MODEL.
100% electric driving pleasure: Discover the unique feeling of driving a BMW electric model without any local emissions. Enjoy the uncompromisingly direct response of the electric engine, as well as the revolutionary acceleration characteristics, the extremely agile driving behavior and the feeling of moving almost silently through the traffic, as if floating on air.
Discover BMW electric models
THE PLUG-IN HYBRID.
Maximum efficiency, supreme comfort and exclusive driving dynamics: this is what the BMW plug-in hybrids stand for. More versatile than any other type of vehicle, they combine the best of both worlds and, with their additional electric drive, bring individual variety and a local absence of emissions into your everyday life at the touch of a button.
Discover BMW plug-in hybrids
THE MILD HYBRID.
Mild-hybrid technology converts the braking energy of vehicles with classic combustion engine drive into electrical energy and makes it available to the electrical systems and the engine. This reduces fuel consumption and CO2 emissions, while you enjoy a noticeable dynamic advantage due to the more intensive acceleration behaviour.
BECAUSE THE FUTURE DEMANDS MORE THAN JUST A DRIVE CONCEPT.
Explore the electrification strategy by BMW.
​
Fuel consumption and CO2 emissions.