5 HIGHLIGHTS OF
THE NEW My BMW APP.
01

Immediate access to vehicle status

02

Remote management of charging process and status

03

Start your vehicle engine remotely from your smartphone

04

Send trip destinations to your BMW

05

Regular upgrades and expansion of functions
THE FEATURES OF THE NEW My BMW APP.
MANAGE MY VEHICLE STATUS.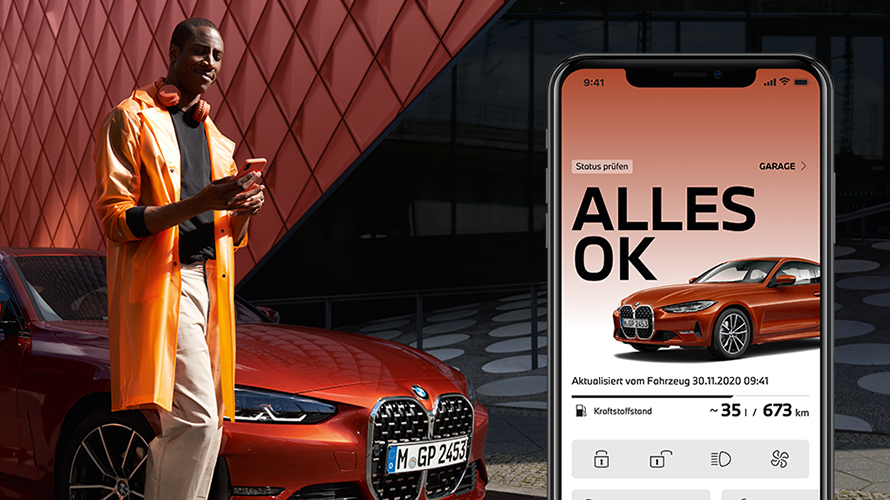 With the My BMW App, you always have everything in view without having to go to your BMW. Is there enough range for a spontaneous trip? What was the mileage again?
CONTROL MY VEHICLE REMOTELY.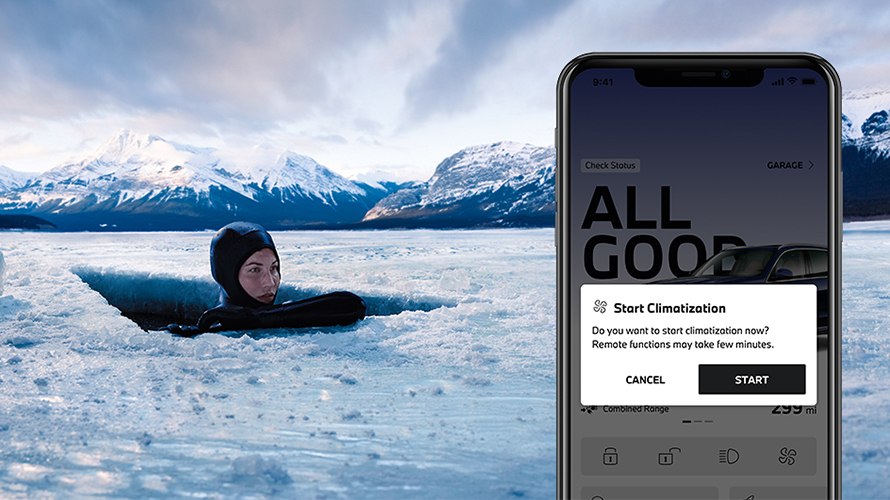 Remote Services allow you to access your vehicle from a distance using the My BMW App. Ventilate your BMW before you drive or lock it from anywhere using your smartphone. Turn your smartphone into a digital key: You can create the BMW Digital Key via your My BMW App and store it on your Apple® iPhone® – if compatible.
MANAGE MY TRIPS.
The My BMW App turns every journey into a stress-free experience. Search for new destinations or personal points of interest within the app and send them directly to your BMW. Alternatively, you can also transfer destinations from a map app, e.g. Google Maps, Apple® Maps that supports the share function directly to your My BMW App.
MANAGE MY SERVICE EXPERIENCE.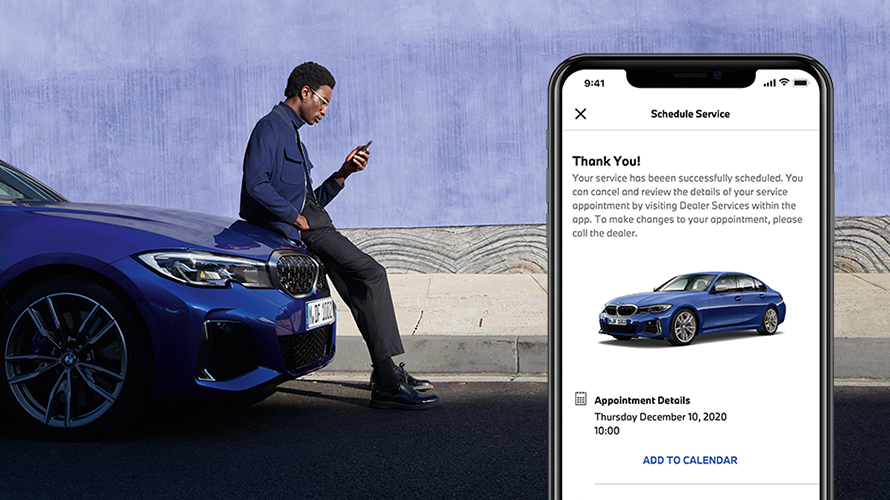 When is your BMW due for the next service? The My BMW App knows exactly what your vehicle needs and lets you know when your BMW needs servicing again. From searching to making a service appointment, everything is done quickly, conveniently and without delay.
MANAGE MY VEHICLE SAFETY.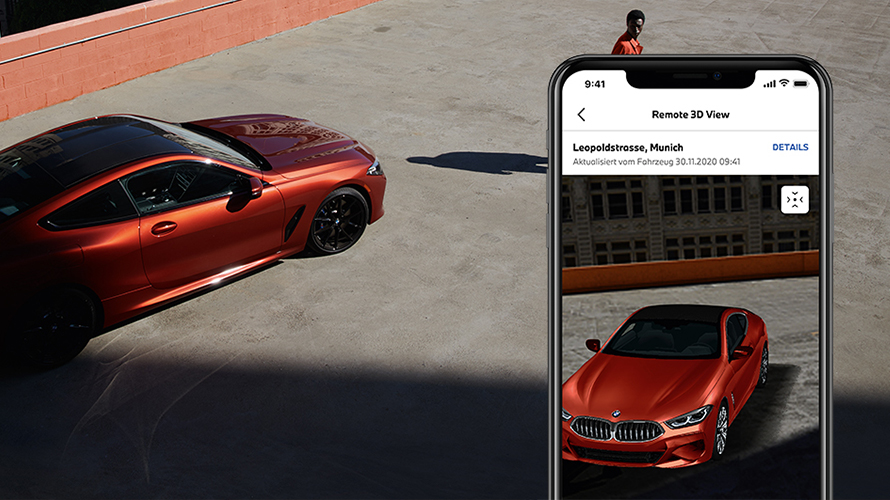 Always keep an eye on your BMW's surroundings to rest assured that everything is fine with your vehicle. Remote Services and Remote 3D View allow you to view the area around your vehicle from any perspective or to lock the doors via the My BMW App.
MY DIRECT LINK TO THE WORLD OF BMW.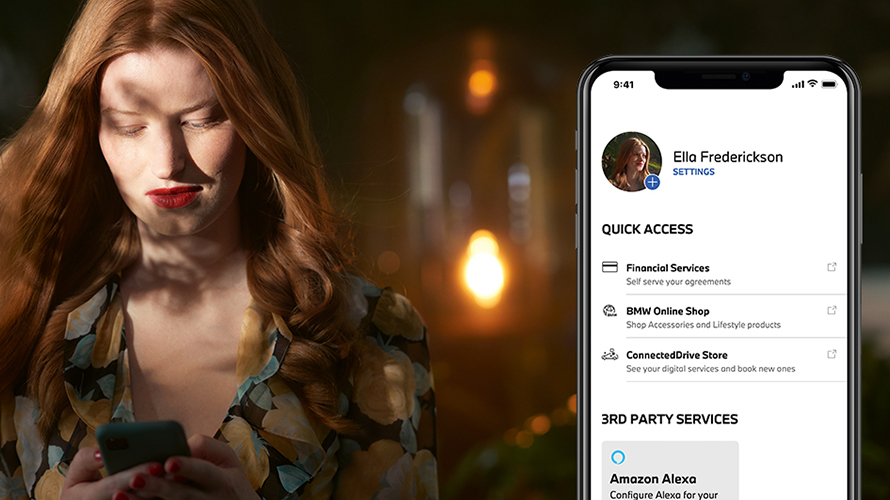 The My BMW App gives you access to exciting information and links to the world of BMW. Use the newsfeed Discover BMW to stay up to date on news and special offers. Explore in our BMW ConnectedDrive Store digital products and services that best suit your mobile life. If you're a BMW Financial Services Customer, you can also access your account in one convenient location 24/7. Take advantage of self-service features, such as making one-time payments, updating your banking information, requesting a Payoff Quote, securely send and receive your documents and message, and much more.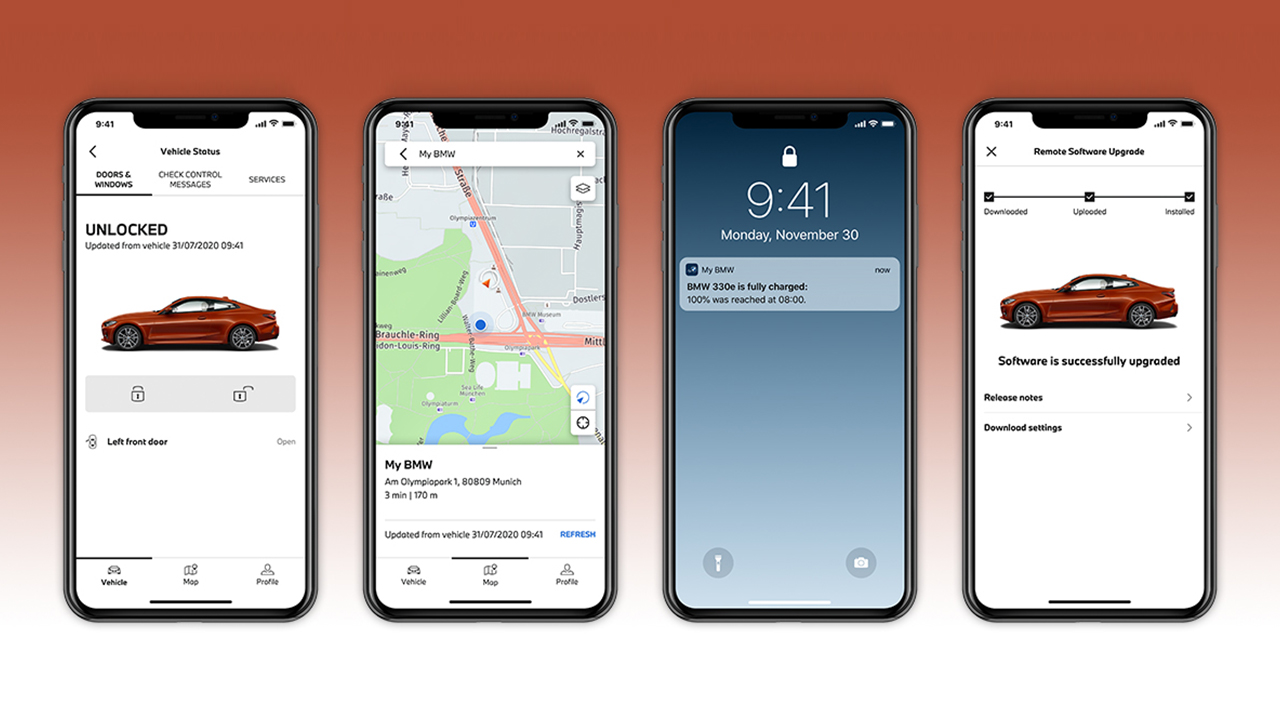 Check In.
✓ Vehicle locked? Windows closed? Fuel needed? Check in at any time to view the status of your BMW from anywhere
✓ Confirm the last location of your vehicle via the built-in map
✓ If you're lucky enough to drive more than one BMW you can switch between vehicles using the Garage View
✓ Keep your BMW up to date with over-the-air Remote Software Upgrades*
*Remote Software Upgrade is currently supported on BMW models with the latest iDrive 7 or newer.
HOW-TO VIDEOS: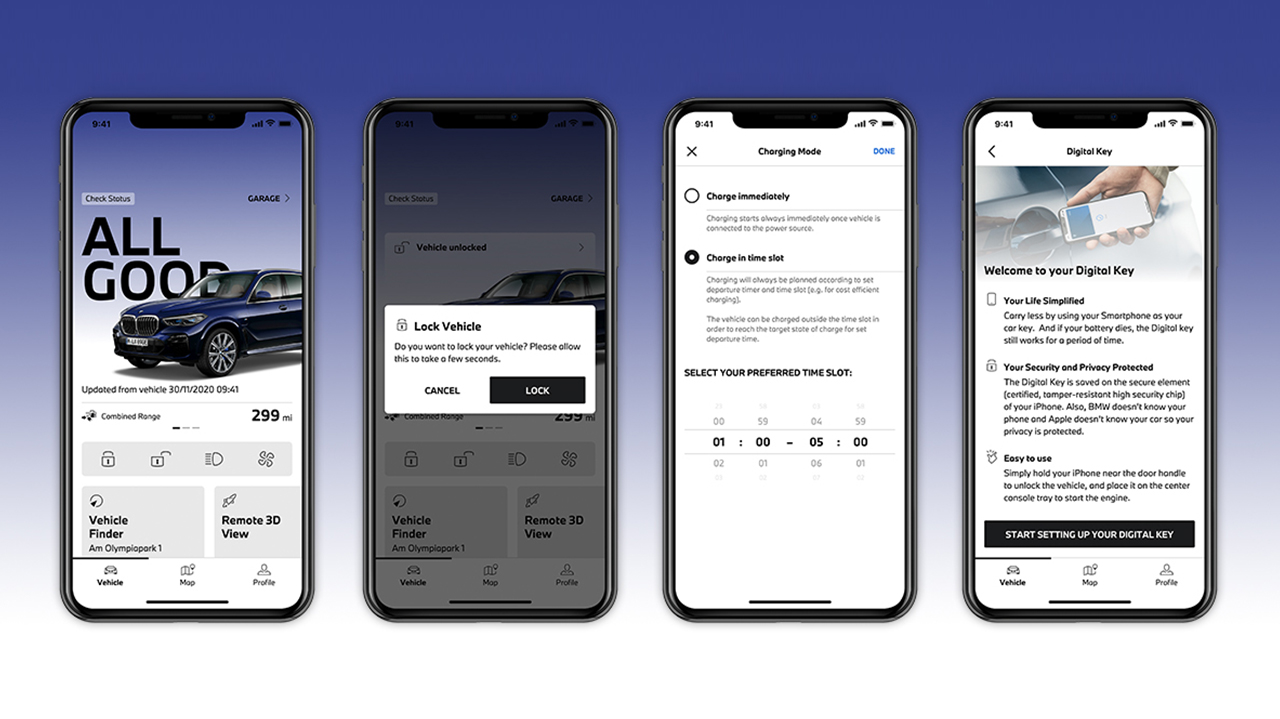 Take Control.
✓ Remotely lock and unlock your vehicle with a touch of a button for 24/7 peace of mind and know exactly where it's parked
✓ Use your Digital Key via your compatible smartphone to lock, unlock and start your BMW, you can easily manage who can use your BMW by sharing your Digital Key with others*
✓ Ventilate the interior of your BMW prior to your journey
✓ Pre-heat and condition the cabin for Plug-in Hybrid and electric models
✓ Conveniently flash your BMW's headlights remotely to light up the surrounding areas
✓ Amazon Alexa** voice activation can be used through the app and within the vehicle, it's on hand to assist you with any query from finding a restaurant to playing your favourite song
*BMW Digital Key functionality is available on select compatible smartphones and must be purchased as an option at the time of ordering your vehicle.
**Amazon Alexa is currently supported on BMW models with the latest multimedia software on certain iDrive 5, iDrive 6, iDrive 7 or newer. Limitations may apply.
HOW-TO VIDEOS:
Plan Trips.
✓ Search and save addresses and Points of Interests
✓ Plan ahead and send destinations straight to your BMW
✓ Review routes, traffic and find possible parking options at your destination
HOW-TO VIDEO: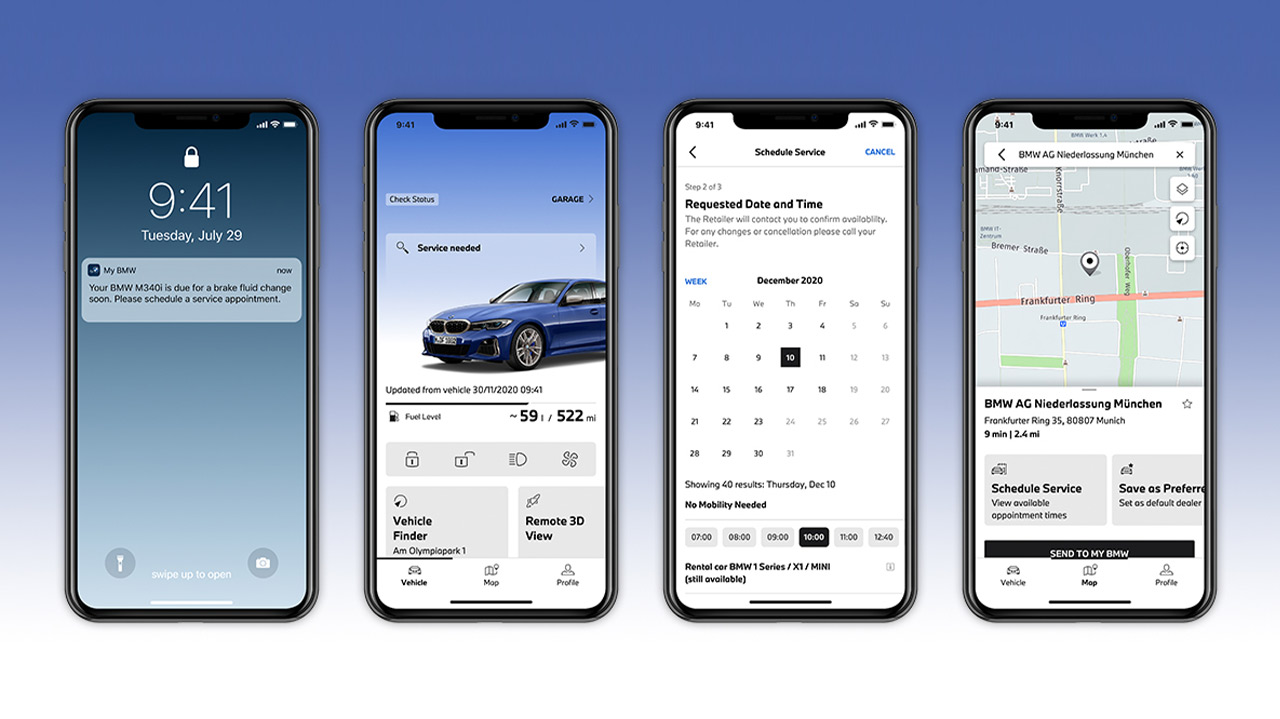 Check Up.
✓ View your vehicle health status for essential maintenance
✓ Check and receive notifications for any servicing requirements
✓ Easily book your BMW's next service, from the comfort of your own home at any time
✓ Direct access to BMW Roadside Assistance support
✓ Search and pre-set your preferred local BMW Retailer
HOW-TO VIDEO: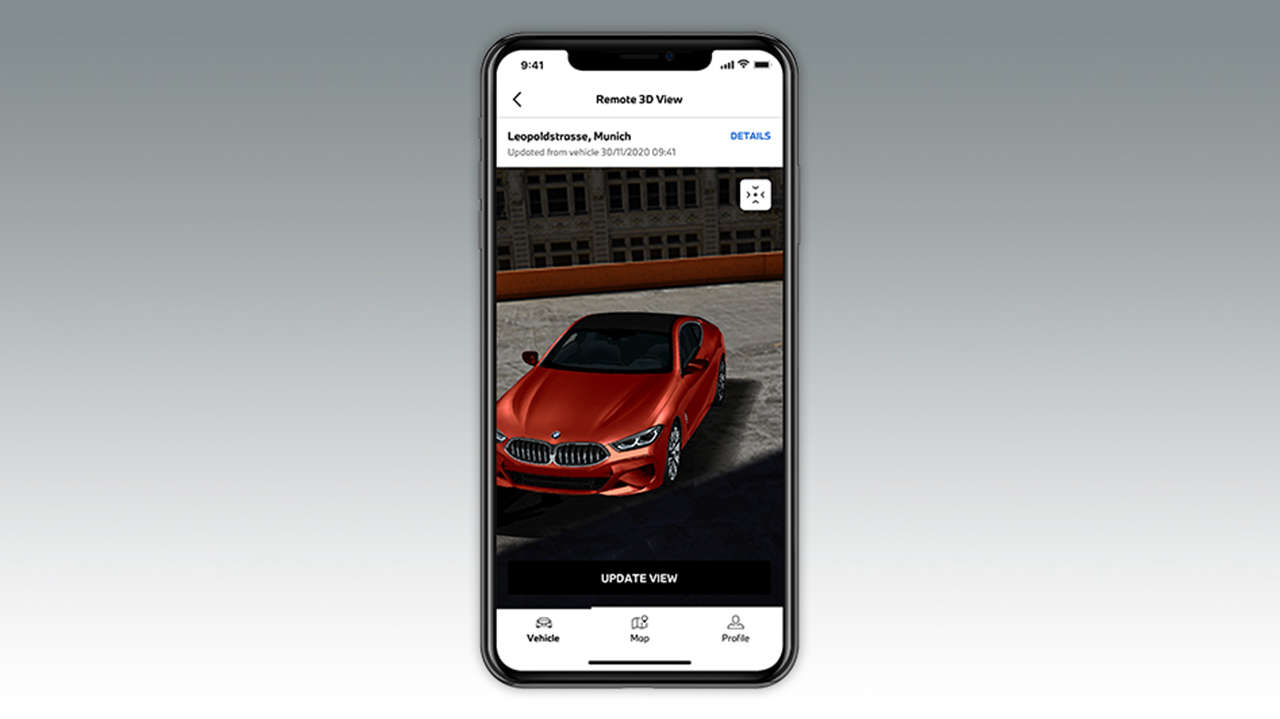 Remote View.
✓ Conveniently check your vehicle's 360 degree surroundings using the advanced Remote 3D view*
*The Parking Assistant Plus option is required for Remote 3D view capabilities. Available on select BMW models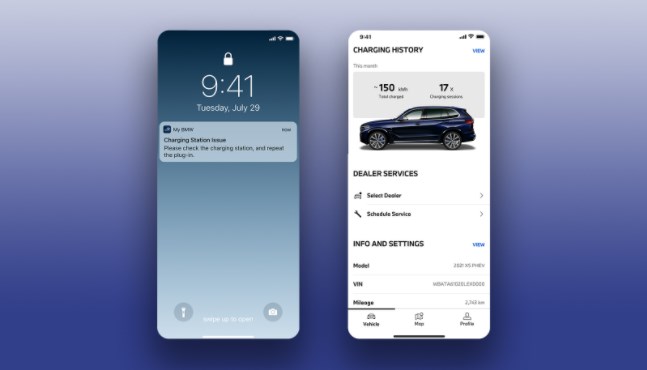 Electric Mobility.
✓ Stay up-to-date on the progress of your vehicle's charge with Charging Push Notifications.
✓ With the Programmable Charging functionality you are able to set the most convenient time via the BMW App for your vehicle to charge, whether that is morning or night.
✓ The integrated map displays a visual range circle that demonstrates the remaining estimated electric range before you need to re-charge.
✓ If you require access to a public charging facility, the My BMW App sends you suggestions for the most convenient charging stations on your route.
✓Ahead of each journey you can use the My BMW App to pre-condition the cabin of your plug-in hybrid or electric BMW.
HOW-TO VIDEO:
GET CONNECTED.
Viewing from your desktop? Please open the camera on your device and scan the QR code to download the My BMW App today.
*The My BMW App is optimized with BMW vehicles from 2016 model year and newer in conjunction with the option BMW ConnectedDrive Services and a compatible smartphone. Available apps and services are subject to change, may vary by location or other factors. May require additional services, plans, subscriptions and vehicle options, and may only be operable in conjunction with certain smartphones and operating systems (smartphone not provided). Not all apps or services may be available for all BMW models.
Amazon, Alexa and all related brand names are trademarks of Amazon.com, Inc. or its affiliates.
Apple and iPhone are registered trademarks of Apple Inc.