Excitingly and elegantly shaped. More powerful than ever. The new generation of the BMW M5 is a statement of supreme engineering skill and innovative driving intelligence. For hitherto unimagined dimensions of driving dynamics up to the limits. Full of state-of-the-art technologies that make the everyday business routine safer and more comfortable. The innovative all-wheel drive system M xDrive of the powerful all-new BMW M5 with its 600 hp (441 kW) engine turns the driver into the self-assured pilot of a high-performance sports saloon with unbelievable power, precision and agility – pure M driving pleasure on a new level.
BMW M5 with M xDrive (1):
Fuel consumption in l/100 km (combined): 10.5
CO2 emissions in g/km (combined): 241

Read more
TOP PERFORMANCE TO THE POWER OF 5.
01

Output (617 hp)*

02

Maximum torque 553 lb-ft

03

From 0 to 100 km/h in 3.3 s*

04

Top speed 305 km/h with M Driver's Package

05

Outstanding driving dynamics thanks to M xDrive
HIGH PERFORMANCE BUSINESS SUIT.
The design of the all-new BMW M5 with M xDrive.
ACCELERATES FROM EVERY PERSPECTIVE.
The new BMW M5 is the uncompromising combination of elegant business saloon and systematically power-oriented supreme performance: large air inlets in the athletic front supply the M V8 high-performance engine with cooling air. The look created by the lines of the distinctive aluminium bonnet with two M specific swage lines is repeated in the contours of the roof made of very lightweight and tough carbon-fibre reinforced plastic (CFRP). The discreet M rear spoiler supports the sporty and powerful appearance and is an important element of the overall aerodynamic concept. Form follows performance – consistently in every detail.
Read more
FIRST-CLASS COCKPIT INSTEAD OF BUSINESS CLASS.
The design of the all-new BMW M5 with M xDrive.
"The all-new BMW M5 with M xDrive drives like a rear-wheel powered car – with enhanced traction."

Frank van Meel, BMW M GmbH, Chairman of the Management Board.
BREATHTAKINGLY MASTERFUL.
How do you translate the tremendous power of the all-new BMW M5 directly and precisely into maximum driving dynamics? With innovative technologies, inspired by motor racing.

Read more
10.8 SEC.*
This is how breathtakingly fast the BMW M5 Competition sprints from 0 to 200 km/h. In combination with the outstanding power of the M TwinPower Turbo 8-cylinder engine, the superior traction of the all-wheel drive M xDrive produces acceleration values that had hitherto been reserved for super sports cars. For the sake of completeness, perhaps we should mention that the all-new BMW M5 Competition accelerates from 0 to 100 km/h in 3.3 seconds.

* These values are provisional and refer to the BMW M5 Competition.

WEIGHT-REDUCED. SOUND-OPTIMISED.
WEIGHT-REDUCED. SOUND-OPTIMISED.
M sports exhaust system.
The M sports exhaust system delivers a dynamic sound that can be modified via the integrated exhaust valve mechanism. The SPORT and SPORT+ programmes, which can be selected via the Driving dynamics buttons, are accentuated by an even more intense engine sound, while the comfort-oriented programme prioritises more discreet engine acoustics. In addition, the noise level can be lowered via the new sound control button.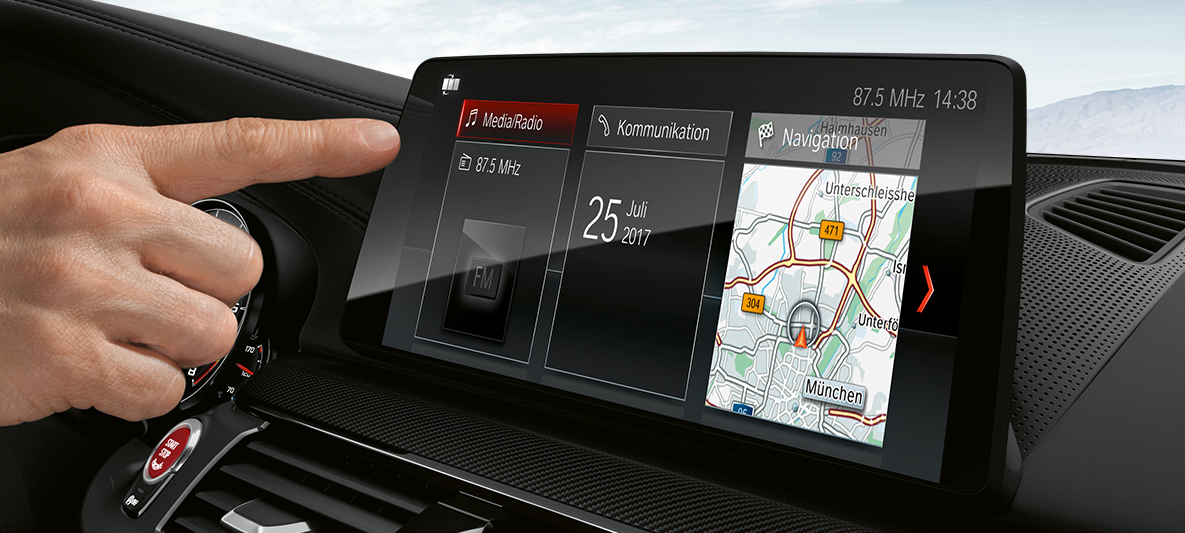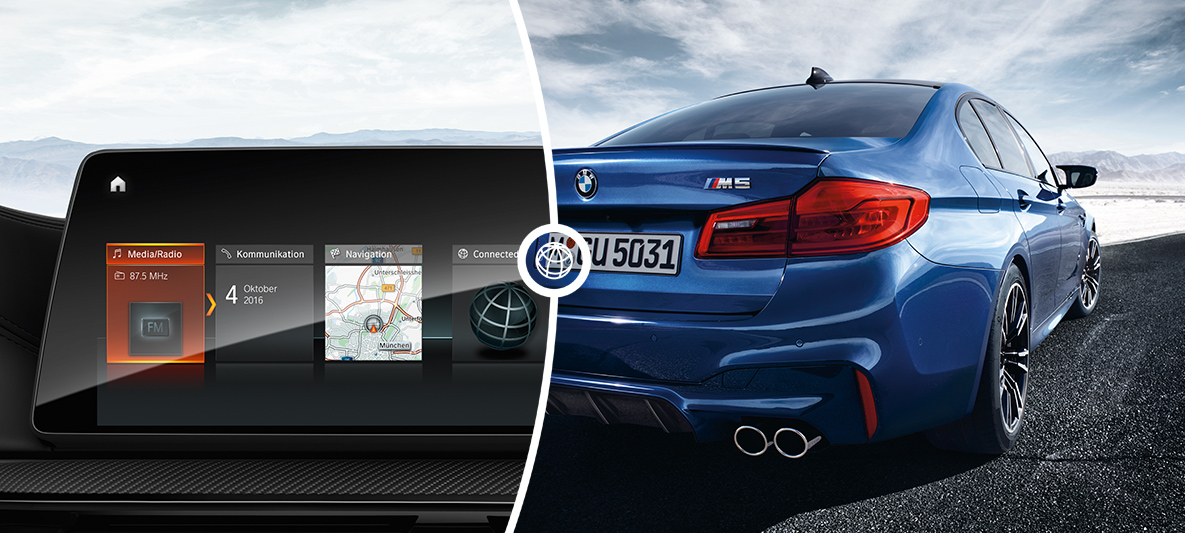 CONNECTIVITY AND DRIVER ASSISTANCE.
The BMW M5 sets new standards in terms of connectivity and driver assistance. Regardless of whether you wish to organise appointments, call up e-mail or set new personal bests on the race track. The innovative operating concept, the multifunctional instrument cluster and the Head-Up Display impress with their supremely intuitive control, digital services and completely new M specific graphics. Enabling you to record all the information relevant to driving in fractions of a second: from the shift, navigation and speed displays via the all-wheel drive mode to the display for your personally selected setup. Numerous intelligent assistance systems are at your side as a co-pilot whenever you wish.

Fuel consumption and CO2 emissions.
Les indications concernant la consommation de carburant et d'énergie électrique ainsi que les émissions de CO2 ont été déterminées selon la méthode de mesure réglementairement prescrite VO (UE) 2007/715 dans sa version en vigueur. Les valeurs indiquées s'appliquent à un véhicule en équipement de base en Allemagne, les écarts tiennent compte des différences dans les dimensions des jantes et des pneus choisis et de l'équipement en option sélectionné, elles peuvent varier durant la configuration.

Les données pour les véhicules identifiés par (2) sont provisoires.

Les données des véhicules identifiés par (3) sont déjà déterminées au moyen du nouveau cycle d'essai WLTP, pondérées pour être comparables au cycle NEDC. [Pour ces véhicules, le calcul des taxes et autres redevances liées au véhicule et également basées sur les émissions de CO2 pourra prendre pour référence d'autres valeurs que celles mentionnées ici.]

Les données d'efficience en matière de CO2 découlent de la directive 1999/94/CE et du règlement Pkw-EnVKV dans leur version actuelle et se basent sur les valeurs de consommation et d'émissions de CO2 du cycle NEDC pour la classification.

Pour de plus amples renseignements sur la consommation de carburant officielle et les émissions de CO2 des nouvelles voitures particulières, veuillez consulter le guide pratique (intitulé « Consommations conventionnelles de carburant et émissions de gaz carbonique ») disponible gratuitement dans tous les points de vente ou auprès de l'ADEME (Agence de l'Environnement et de la Maîtrise de l'Énergie), Éditions, 2 square Lafayette, BP 406, F-49004 Angers Cedex 01).