REPRESENTS EXTREMELY SPORTY VIEWS.
Models and equipment options of the BMW 2 Series Coupé.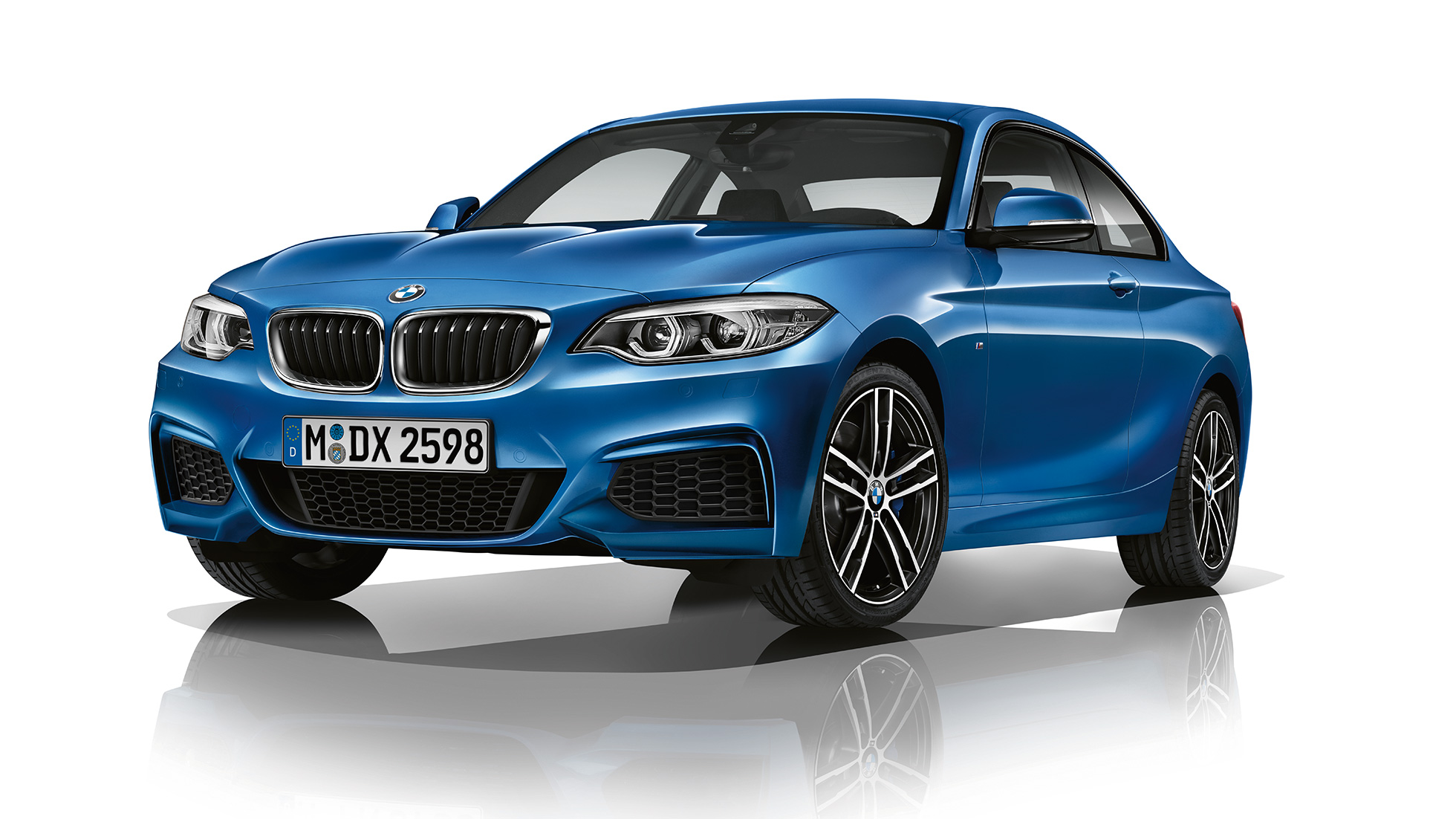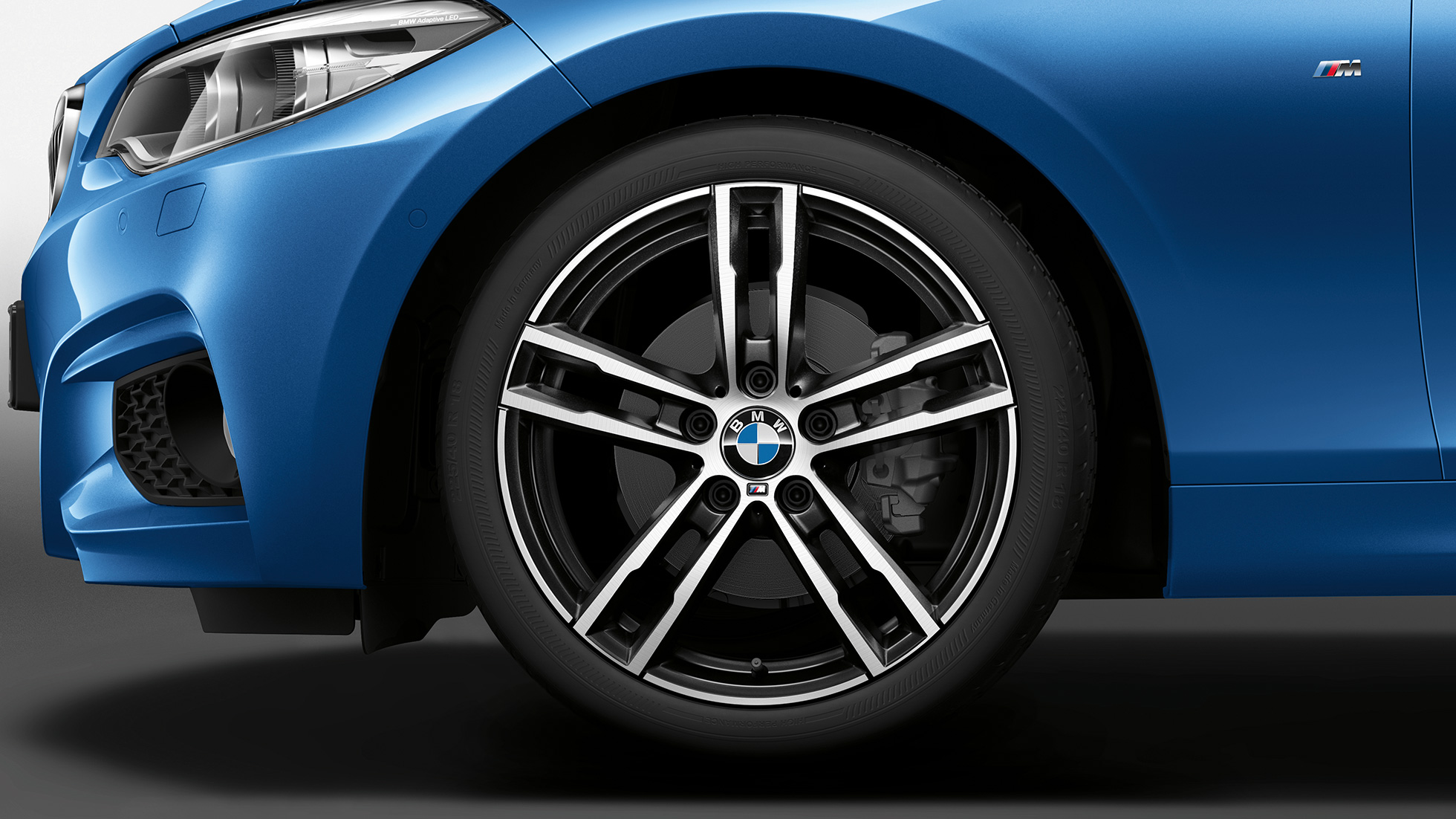 The M Sport model gives the vehicle an even sportier touch. In addition to a sharpened appearance in the exterior and interior, the M Sport model guarantees an increase in driving pleasure. The M Sport suspension and the M Aerodynamics package for example noticeably optimise the driving dynamics.
Go to configurator
Exterior

M Aerodynamics package with front apron, side skirts and rear apron with diffuser insert in Dark Shadow metallic

BMW kidney grille with eight exclusively designed vertical slats with front sides in Black high-gloss

18" M light alloy wheels Double-spoke style 461 M with mixed tires; other wheels available

M Sport suspension, alternatively Adaptive M suspension

BMW Individual high-gloss Shadow Line

Tailpipe trim strip in Chrome high-gloss

Exclusive paintwork in Estoril Blue metallic; other paintworks available

Servotronic

Park Distance Control (PDC), rear

Interior

M door sill finishers, M driver footrest, knee pad on the right of the driver's footwell

Sport seats for driver and front passenger in cloth/Alcantara combination 'Hexagon', Anthracite; other upholsteries available

M Leather steering wheel

Vehicle key with Estoril Blue detailing

BMW Individual headliner anthracite

Instrument cluster with speedometer and revolution counter with chronoscaling

Decorative stitching on the upper portion of the instrument panel

Air conditioning and radio control unit with Pearl Chrome detailing

Interior trim finishers in Aluminium Hexagon with highlight trim finishers in Blue matt; other trims available

Shortened gear lever with M designation

Driving Experience Control with additional SPORT+ mode

Orange or white variable Ambient light

Lights package

Cruise control with braking function

Storage compartment package
RADICALLY DYNAMIC.
Driving dynamics & efficiency in the BMW 2 Series Coupé.
With pole position firmly in its sights: thanks to its powerful drives and the precisely tuned suspension, the BMW 2 Series Coupé is impressive all along the line. Experience pure driving dynamics – free of any conventions.
Adaptive M suspension.
The Adaptive M suspension can be electronically adjusted at any time to suit the road and driving conditions. The driver can also adjust the suspension characteristics via the Driving Experience Control to enable their preferred driving style at the time – from comfortable to extremely athletic with markedly agile handling.
Variable sport steering.
The Variable sport steering with Servotronic creates a direct and agile steering response and ensures less physical effort is required to turn the wheel. It reacts to the angle of the steering wheel with varying steering ratios. This improves handling when driving more dynamically and reduces the effort needed to steer when parking and turning.
Launch Control.
Launch Control is a function included in the 8-speed Steptronic sport transmission which enables maximum acceleration from a standing start. This is used by putting the gear lever in the "S" position to activate the DTC function (via the DSC button) and pressing the accelerator down fully while the brakes are on. When the driver releases the brake, the vehicle accelerates fully to its traction limit.
BMW TwinPower Turbo 2.0-litre 4-cylinder petrol engine.
The latest-generation BMW TwinPower Turbo 2.0-litre 4-cylinder petrol engine guarantees maximum driving pleasure. It is notable for its agile power delivery as well as for its outstanding responsiveness even at low engine speeds, while also being fuel efficient and low in emissions.
8-speed Steptronic Sport transmission.
The 8-speed Steptronic Sport transmission offers incredibly sporty gear changes. Whether automatic or manual using gearshift paddles or gear lever - for comfortable coasting or incredibly dynamic driving. In SPORT mode and with the gear lever in the left-hand S/M position, the gear shifts are configured for maximum performance.
xDrive.
The intelligent BMW xDrive all-wheel drive system smoothly and variably distributes drive power to the front and rear wheels for maximum traction, driving dynamics and safety in every driving situation. For even better agility, the electronically controlled power distribution for instance counterbalances oversteer or understeer on bends.
SHARES THE THINKING. LOOKS AHEAD. IN EVERY SITUATION.
Driver assistance in the BMW 2 Series Coupé.
The BMW 2 Series Coupé offers a number of intelligent driver assistance systems that make life easier.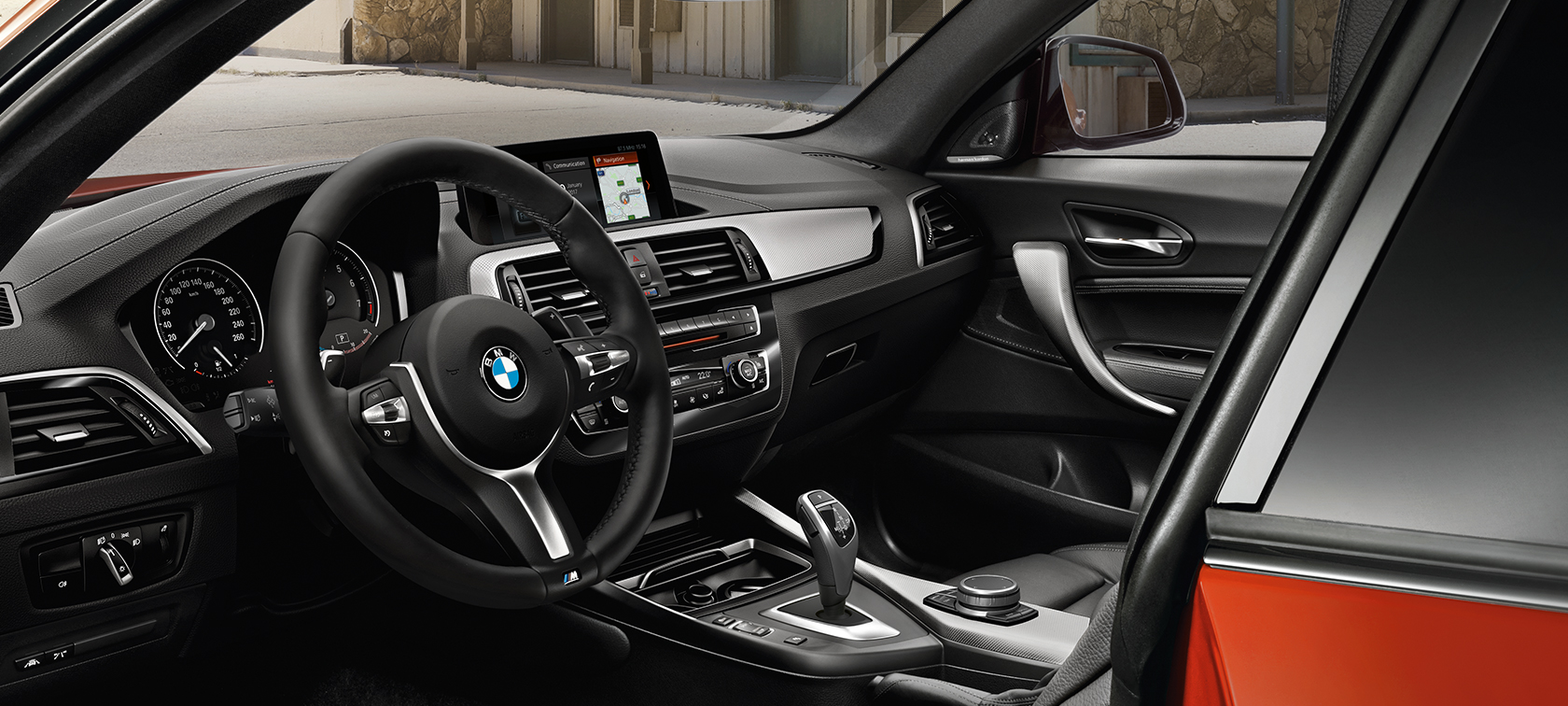 Driving Assistance.
Driving Assistant combines the Lane Departure Warning and Approach control warning systems. When travelling at speeds between 10 and 60 km/h, the Approach control and person warning with light city braking function issues a warning if there is a risk of collision with vehicles or pedestrians, and brakes the vehicle in the event of an emergency. At speeds above approx. 70 km/h, the Lane Departure Warning draws the driver's attention to an unintentional lane change by means of slight vibrations of the steering wheel.
Active Cruise Control.
Active cruise control with Stop&Go function incl. Approach control warning with braking function maintains a speed preselected by the driver, as well as the distance to the vehicle ahead. The vehicle takes over accelerating and braking and keeps the predetermined distance to the car ahead even in slow-moving traffic and down to a stand-still in traffic jams.
Speed Limit Info.
Speed Limit Info including the no-overtaking indicator detects current speed limits and no-overtaking signs and shows them on the Info Display in the instrument cluster.
Parking Assistant.
The Parking assistant makes parking parallel and perpendicular to the road easier. The system works by measuring even tight potential parallel parking spaces while driving past at a low speed. When a suitable space has been found, the Parking assistant takes over the steering, while the driver is responsible for selecting the correct gear, as well as pressing the accelerator and brakes.
IRREPRESSIBLY COMMUNICATIVE.
Connectivity in the BMW 2 Series Coupé.
The BMW 2 Series Coupé inspires with first-class connections and intelligent mobility. Innovative BMW ConnectedDrive technologies connect you seamlessly with relevant services, useful apps and perfect entertainment while you are on the move.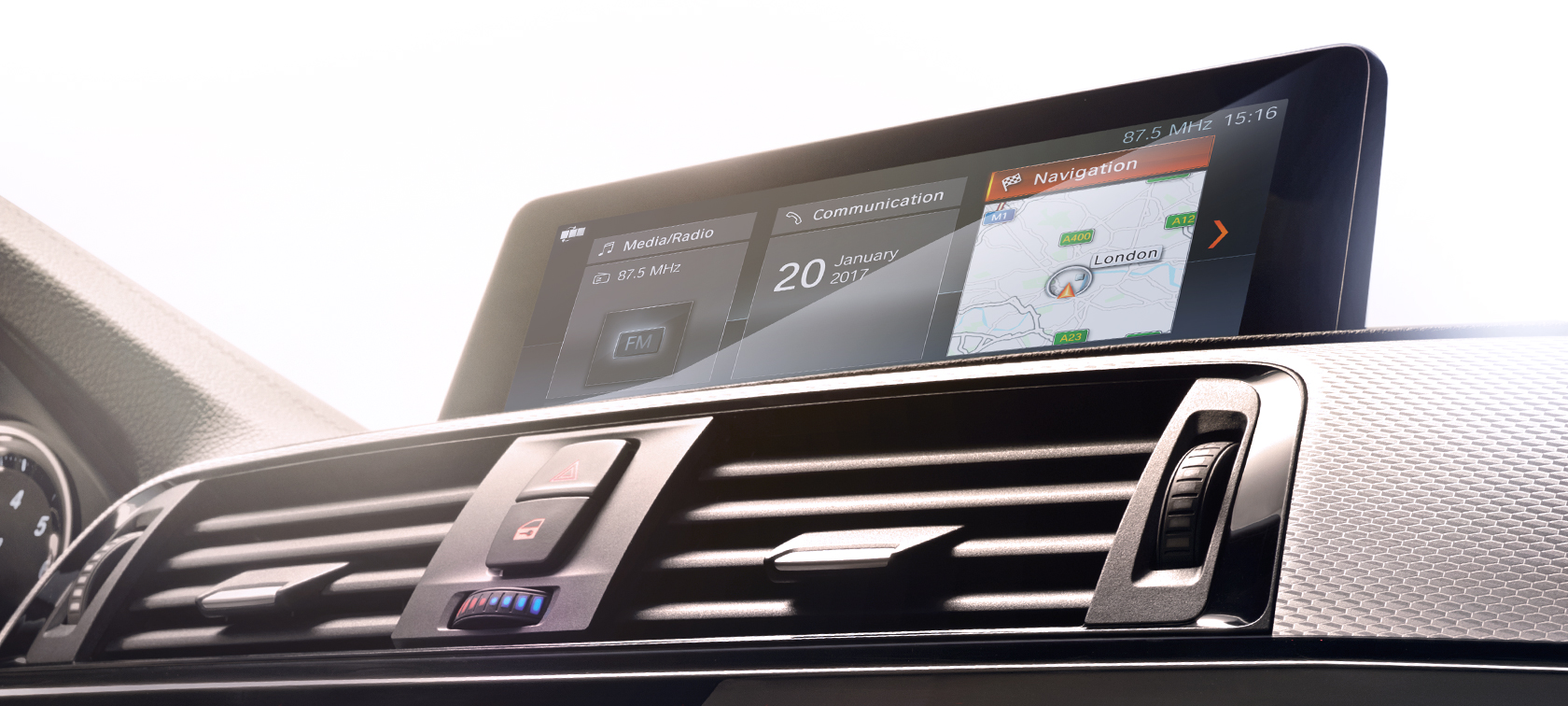 BMW Connected.
Connect with your BMW. The BMW Connected app is your digital mobility assistant which takes care of your needs before and during your journey. Access your car using your smartphone, smartwatch, Amazon Echo or Google Assistant, send destinations to the navigation system or receive reminders for meetings to make sure you arrive there on time.
Telephony with wireless charging.
Telephony with wireless charging includes a wireless charging dock and additional USB ports. A roof aerial connection improves mobile reception. Two mobile telephones and an audio player can be connected simultaneously via Bluetooth. Also included are: Bluetooth Office and the technical capacity for a WiFi hotspot.
Online Entertainment.
Listen to your favourite music wherever you are. Classical on the motorway, jazz during rush hour and pop when you're cruising. With Online Entertainment, you can directly stream as many as 30 million songs without any limits courtesy of BMW's music partners, Deezer and Napster, using the SIM card installed in your vehicle.
Apple CarPlay®.
Why go without the features of your iPhone in your BMW when you can continue operating it as usual? The preparation for Apple CarPlay® gives you remote access to telephony as well as apps like iMessage, WhatsApp, TuneIn, Spotify and Apple Music. You can also use the voice button on the steering wheel to access Siri, Apple's voice assistant.
Concierge Service.
Will it be sunny tomorrow in Rome? When is my flight and where is the best restaurant in the city? Concierge Services are there to help when you are travelling and can support you with any request at the touch of a button – individual, personal and fast. Wherever you are, whatever you need.
TECHNICAL DATA.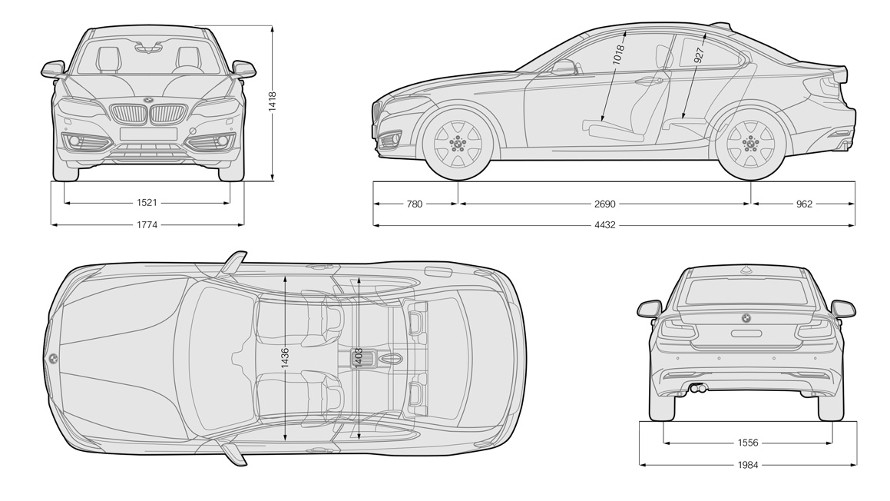 Weight

Curb Weight

1622

Max. permissible weight in kg

1935

Payload

356

Permitted axle load front/rear in kg

925/1085
Engine

Cylinders/valves

4/4

Capacity in ccm (cubic)

1998

Stroke/bore in mm

94.6/82

Engine power in hp at 1/min

248

Engine torque at 1/min

258 lb-ft

Compression ratio : 1

10:2
Performance

Top speed in km/h (optional)

210 (250)

Acceleration 0–100 km/h in s

5.6
Fuel consumption

Urban in l/100 km

9.9

Extra-urban in l/100 km

7.1

Combined in l/100 km

8.6

Tank capacity, approx. in l

52
Wheels

Tyre dimensions front

225/40 R18

Tyre dimensions rear

225/40 R18

Wheel dimensions and material front

7.5J X 18LM

Wheel dimensions and material rear

7.5J X 18LM
Weight

Curb Weight

1622

Max. permissible weight in kg

1935

Payload

356

Permitted axle load front/rear in kg

925/1085
Engine

Cylinders/valves

4/4

Capacity in ccm (cubic)

1998

Stroke/bore in mm

94.6/82

Engine power in hp at 1/min

248

Engine torque at 1/min

258 lb-ft

Compression ratio : 1

10:2
Performance

Top speed in km/h (optional)

210 (250)

Acceleration 0–100 km/h in s

5.6
Fuel consumption

Urban in l/100 km

9.9

Extra-urban in l/100 km

7.1

Combined in l/100 km

8.6

Tank capacity, approx. in l

52
Wheels

Tyre dimensions front

225/40 R18

Tyre dimensions rear

225/40 R18

Wheel dimensions and material front

7.5J X 18LM

Wheel dimensions and material rear

7.5J X 18LM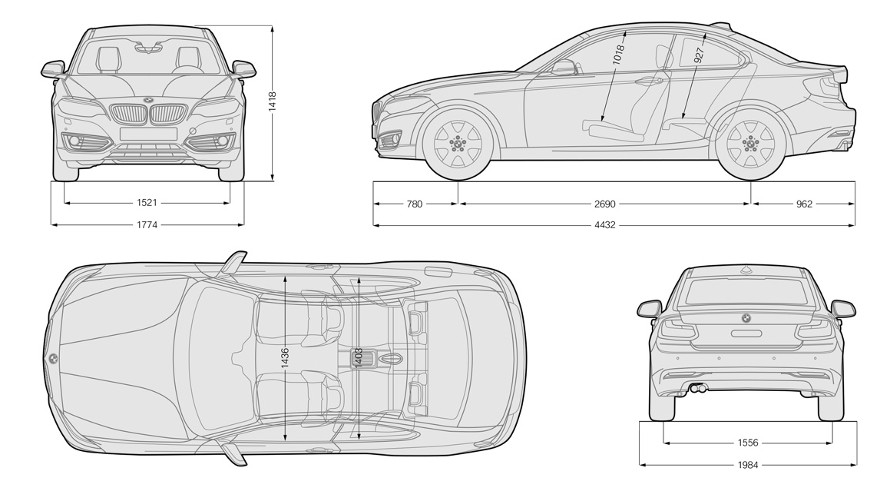 Weight

Curb Weight

1622

Max. permissible weight in kg

1935

Payload

356

Permitted axle load front/rear in kg

925/1085
Engine

Cylinders/valves

4/4

Capacity in ccm (cubic)

1998

Stroke/bore in mm

94.6/82

Engine power in hp at 1/min

248

Engine torque at 1/min

258 lb-ft

Compression ratio : 1

10:2
Performance

Top speed in km/h (optional)

210 (250)

Acceleration 0–100 km/h in s

5.6
Fuel consumption

Urban in l/100 km

9.9

Extra-urban in l/100 km

7.1

Combined in l/100 km

8.6

Tank capacity, approx. in l

52
Wheels

Tyre dimensions front

225/40 R18

Tyre dimensions rear

225/40 R18

Wheel dimensions and material front

7.5J X 18LM

Wheel dimensions and material rear

7.5J X 18LM
Weight

Curb Weight

1622

Max. permissible weight in kg

1935

Payload

356

Permitted axle load front/rear in kg

925/1085
Engine

Cylinders/valves

4/4

Capacity in ccm (cubic)

1998

Stroke/bore in mm

94.6/82

Engine power in hp at 1/min

248

Engine torque at 1/min

258 lb-ft

Compression ratio : 1

10:2
Performance

Top speed in km/h (optional)

210 (250)

Acceleration 0–100 km/h in s

5.6
Fuel consumption

Urban in l/100 km

9.9

Extra-urban in l/100 km

7.1

Combined in l/100 km

8.6

Tank capacity, approx. in l

52
Wheels

Tyre dimensions front

225/40 R18

Tyre dimensions rear

225/40 R18

Wheel dimensions and material front

7.5J X 18LM

Wheel dimensions and material rear

7.5J X 18LM
Weight

Curb Weight

1622

Max. permissible weight in kg

1935

Payload

356

Permitted axle load front/rear in kg

925/1085
Engine

Cylinders/valves

4/4

Capacity in ccm (cubic)

1998

Stroke/bore in mm

94.6/82

Engine power in hp at 1/min

248

Engine torque at 1/min

258 lb-ft

Compression ratio : 1

10:2
Performance

Top speed in km/h (optional)

210 (250)

Acceleration 0–100 km/h in s

5.6
Fuel consumption

Urban in l/100 km

9.9

Extra-urban in l/100 km

7.1

Combined in l/100 km

8.6

Tank capacity, approx. in l

52
Wheels

Tyre dimensions front

225/40 R18

Tyre dimensions rear

225/40 R18

Wheel dimensions and material front

7.5J X 18LM

Wheel dimensions and material rear

7.5J X 18LM