CONNECT AND TAKE CHARGE.
Discover the technology of the BMW X5 xDrive45e Plug-in Hybrid.
The connectivity and driver technology inside the BMW X5 xDrive45e is thoughtfully designed to cater to your every whim. From the intelligent digital services to the intuitive driver assistant systems, discover a full suite of premium technology that offers you maximum comfort, safety, and convenience on every journey.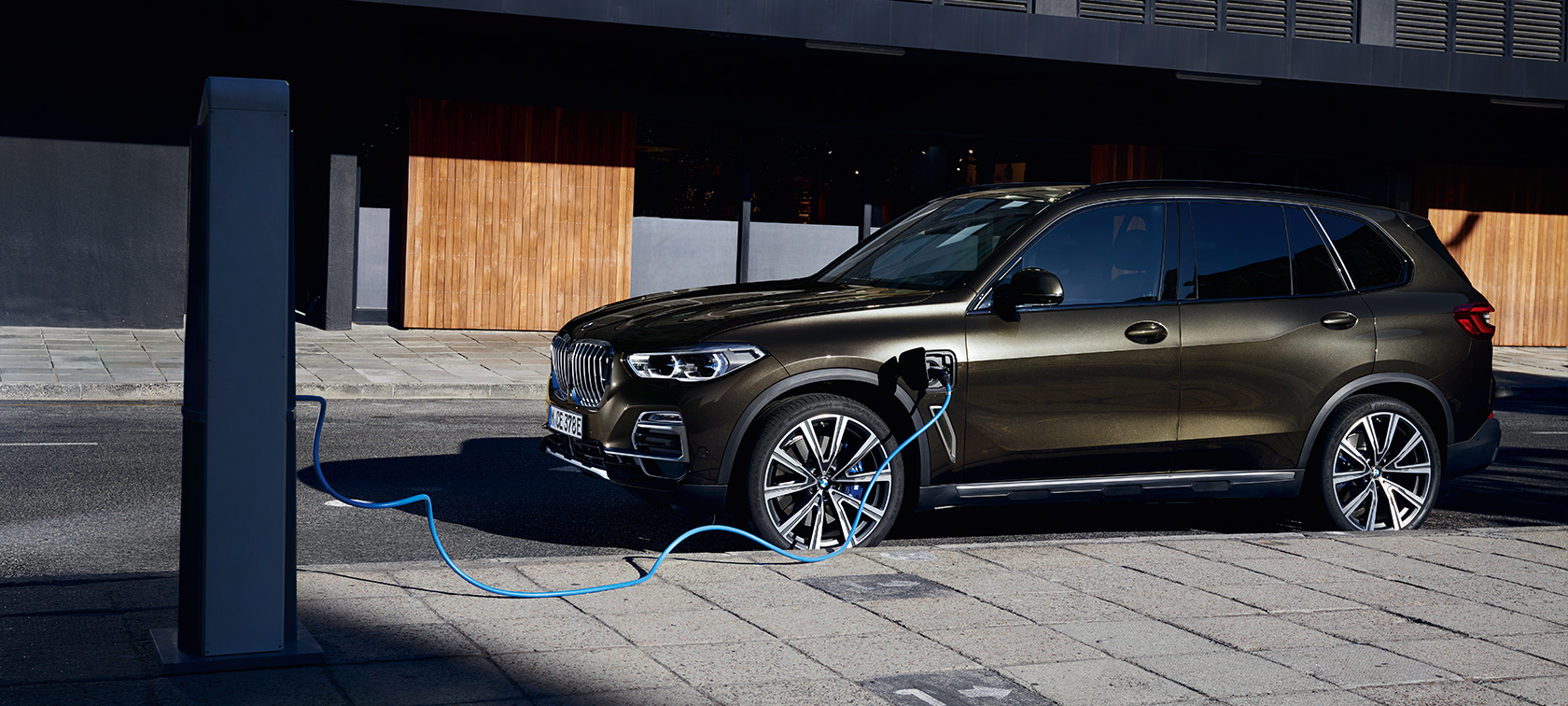 Driving Assistant Professional.
The BMW Driving Assistant Professional offers optimum comfort and safety during critical or monotonous traffic situations. Stay in control with features such as Steering and Lane Control Assistant, Emergency Stop Assistant, and Lane Keeping Assistant with active side collision protection.
BMW Parking Space Assistant.
Trying to find a parking space close to your destination? It's no problem with the BMW Parking Space Assistant. This thoughtful feature suggests vacant spaces in large parking facilities or on the street and, based on your selection, finds the best route with the highest likelihood of an available space.
Remote Software Upgrade.
With Remote Software Upgrade, your BMW will always be like new. Upgrades are installed over-the-air, just as they are for your smartphone. In this way, other functions in your vehicle can also be activated.
Connected Package Professional.
Why order individual connectivity options when you can have everything all at once? With the Connected Package Professional, you can enjoy Remote Services, BMW Maps, smartphone integration including Apple CarPlay and Android Auto or In-Car Experiences –with just one package.
TAKE CHARGE OF EVERY DAY.
Get the best of every world in the BMW X5 xDrive45e. Combining the benefits of electric mobility with the flexibility and high performance of a 6-cylinder TwinPower Turbo engine, this dynamic Sports Activity Vehicle empowers you to tailor every journey to suit your mood. And with BMW xDrive All-Wheel Drive as standard, your everyday drive is sure to be as gripping as it is electrifying.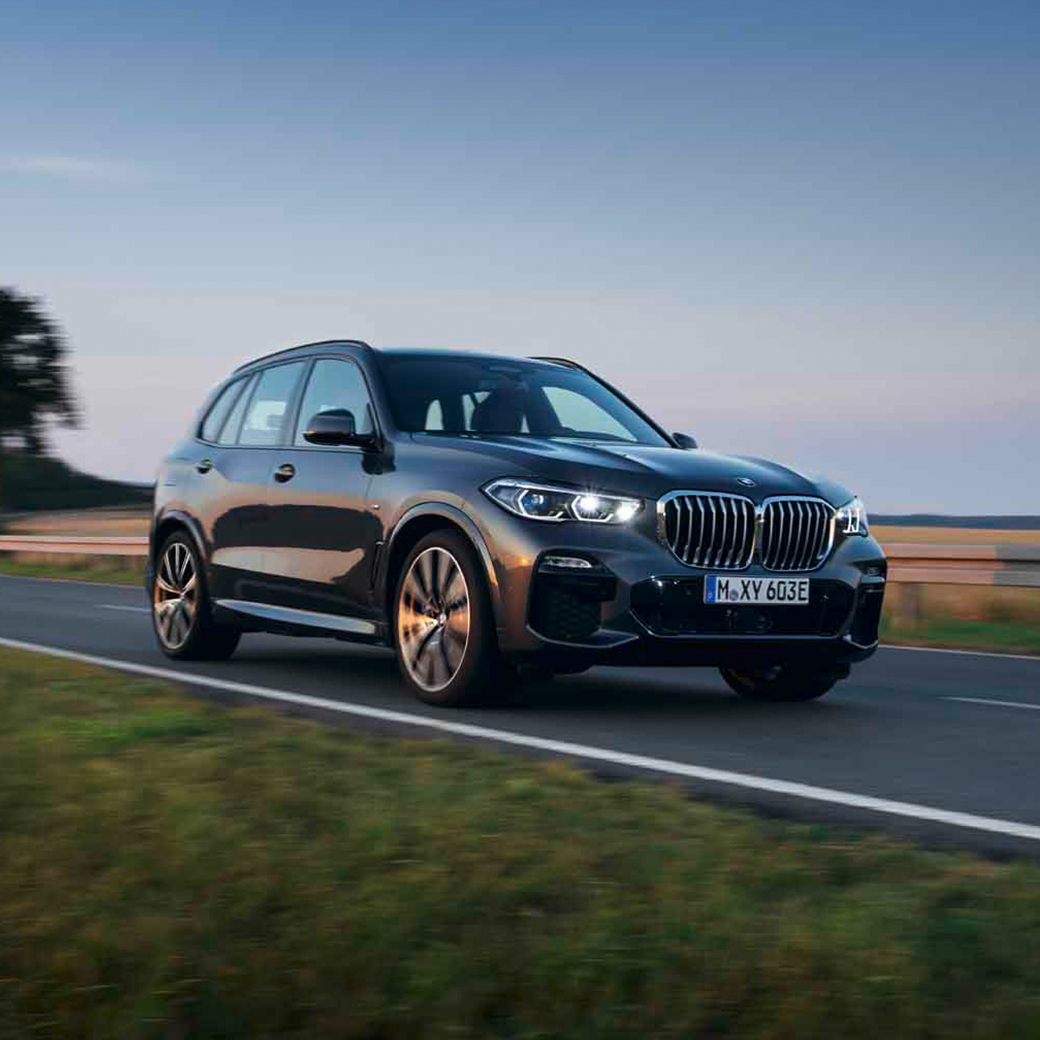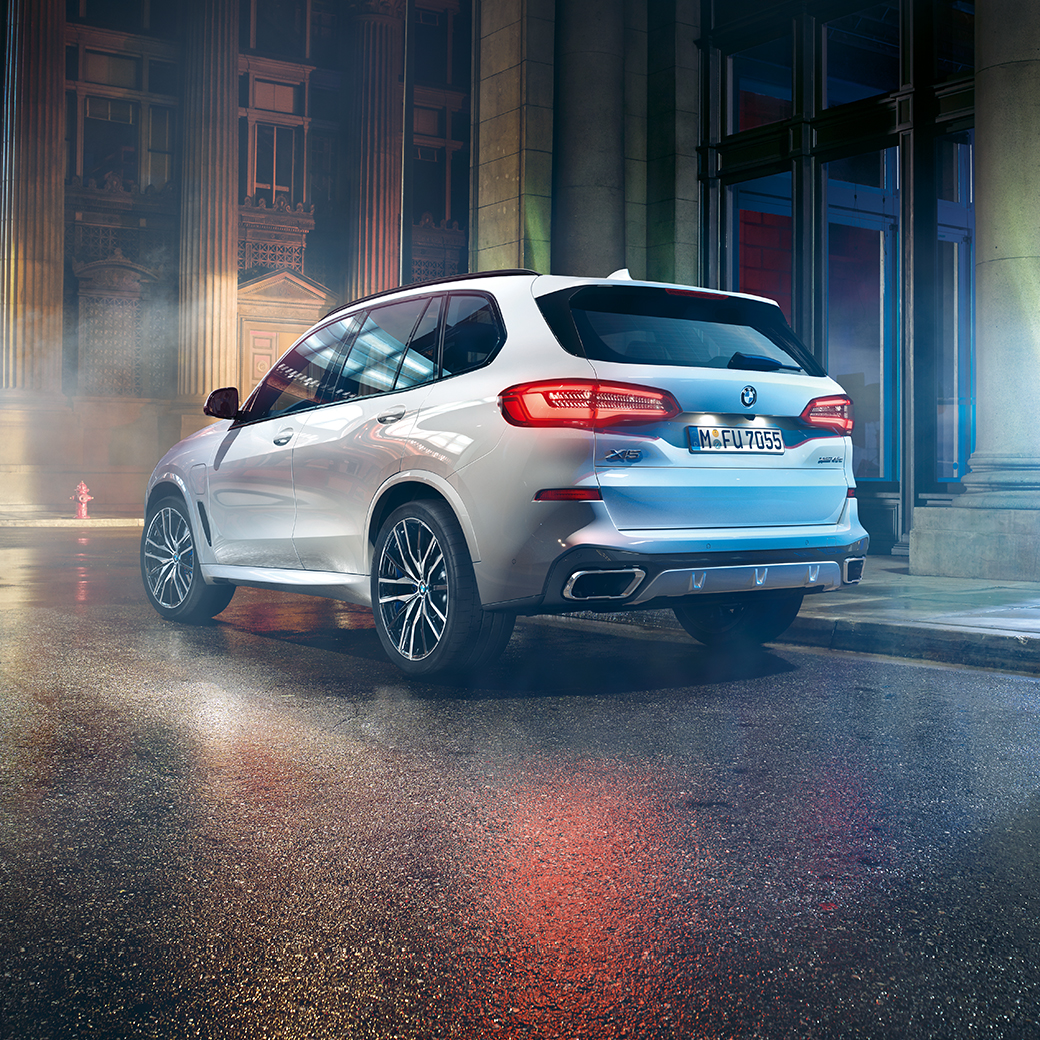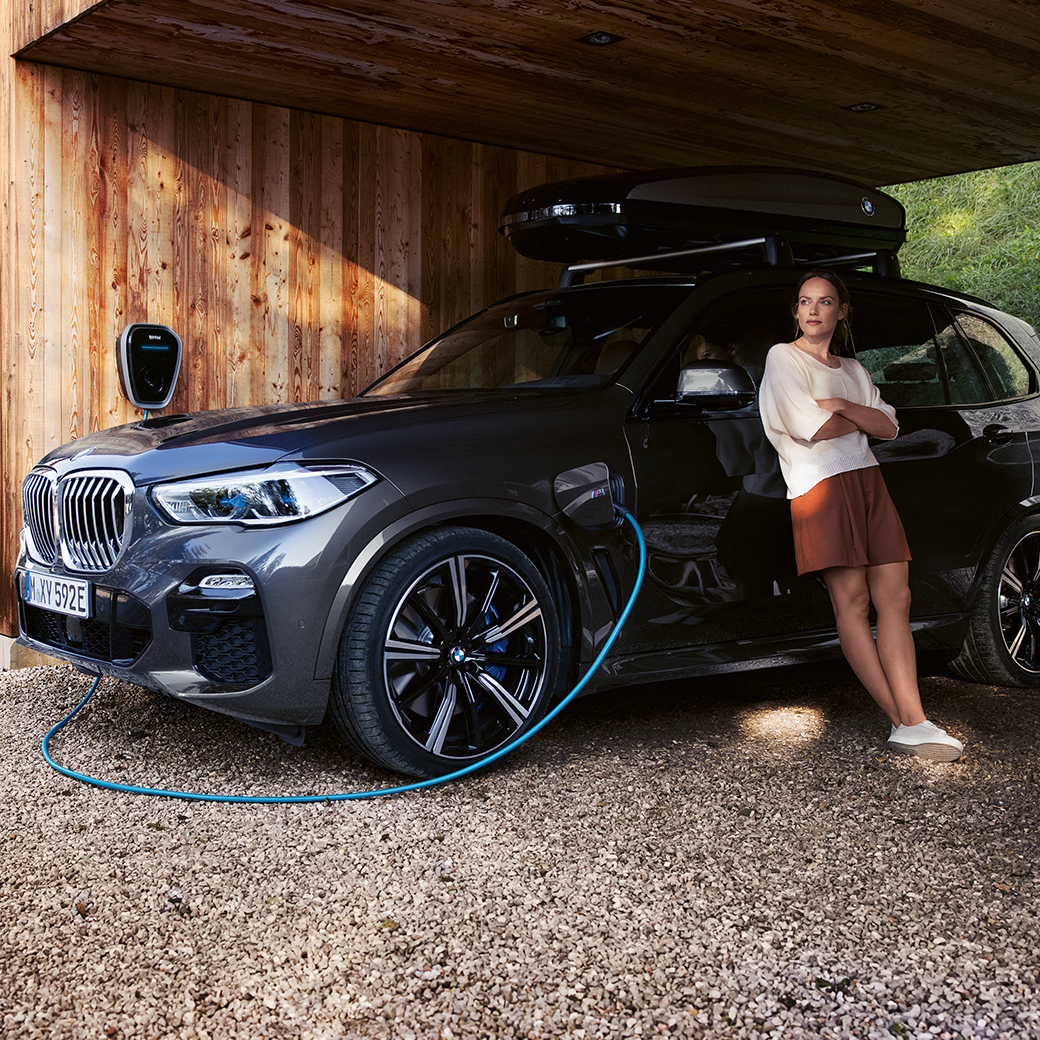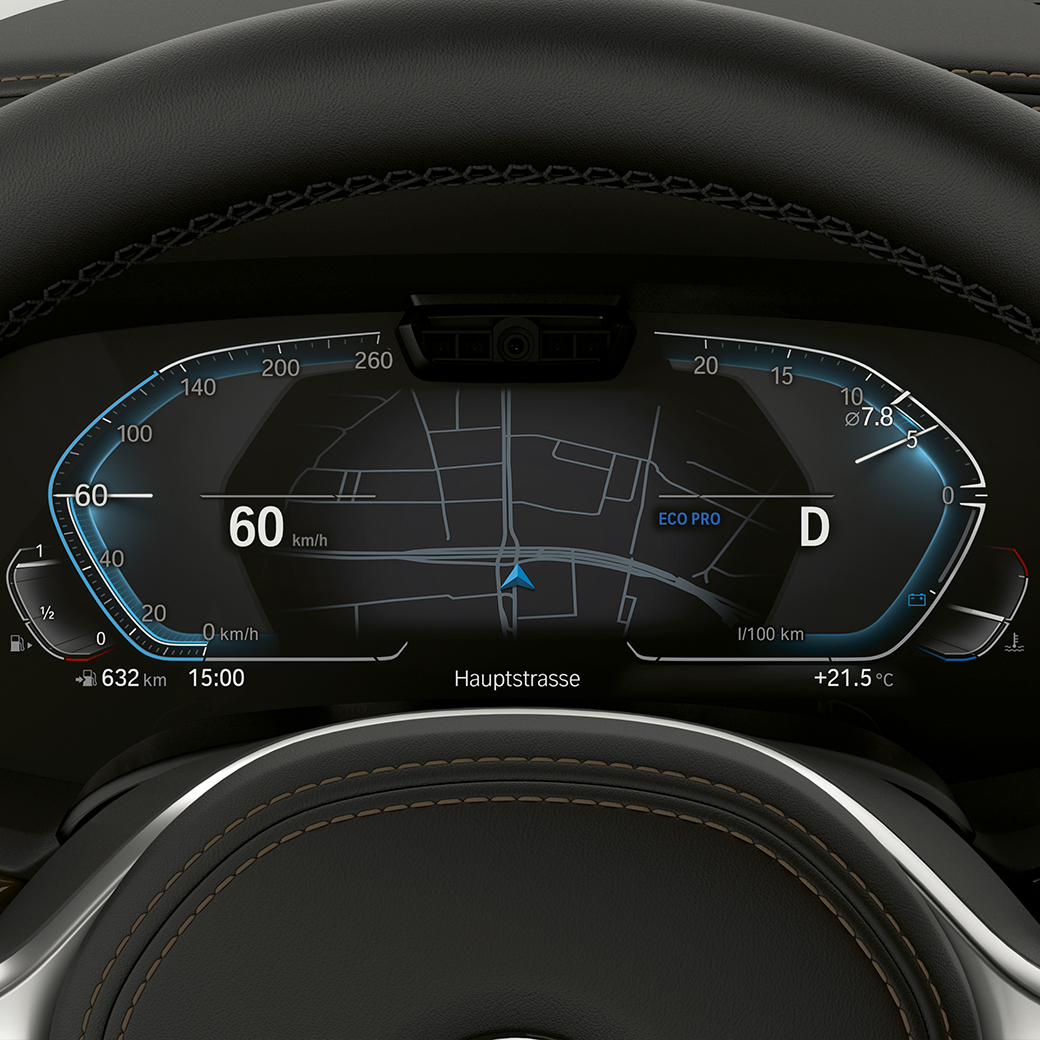 COMMANDS THE ROAD.
AND YOUR ATTENTION.
Discover the design elements of the BMW X5 xDrive45e Plug-in Hybrid.
Powerful, upright, and elegant – the presence of the BMW X5 xDrive45e is clear for all to see. The bold one-piece kidney grille hints at what will happen when you put your foot down. And the honed X design of the headlights leaves no doubt as to who will take the lead. Step inside and discover a roomy and refined cabin adorned with elegant finishes and top-quality materials that are sure to delight both you and your passengers upon every drive.
Front Profile.
The large, slightly hexagonal kidney grille, together with the optional laser light and the powerful air intakes creates a look that radiates power and presence right at first glance.
Rear Profile.
The horizontal lines at the rear of the BMW X5 xDrive45e emphasize its sporty and versatile character. The fully electric "Split Tailgate" can be opened at the touch of a button, helping to lend a hand when yours are full.
Refined Cockpit.
Inside the BMW X5 xDrive45e, the optional panoramic sunroof creates a sense of spaciousness, while high-quality materials and sleek finishes impart an exclusive ambience. Optional fine glass elements on the gear selector lever, BMW controller, start/stop button and volume control elevate the vehicle's overall air of sophistication.  

Spacious Rear Seats.
The generous sense of space in the BMW X5 xDrive45e also extends to the comfortable second row of seats. If five seats aren't enough, the available seating capacity can be expanded by integrating an optional third row in the rear of the cabin.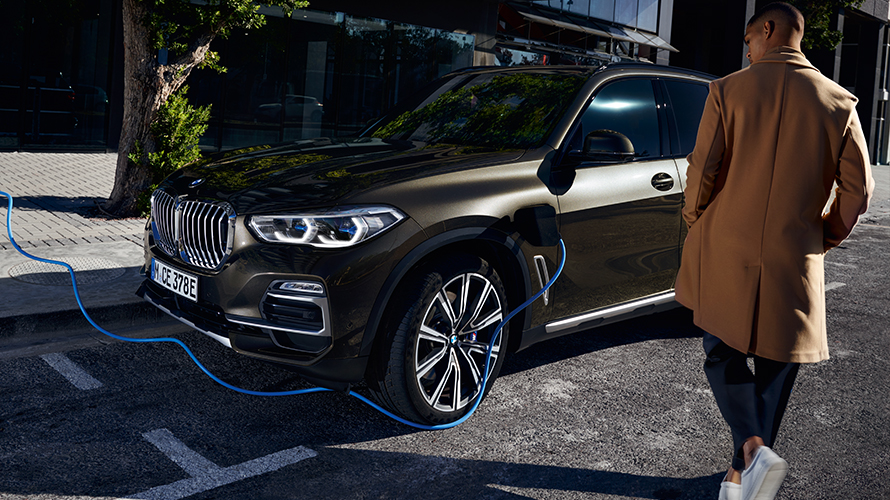 CHARGING MADE SIMPLE.
With the BMW X5 xDrive45e Plug-in Hybrid, the included Occasional Use Cable is all you'll need to achieve a charge in any standard home outlet. But it's not your only option. From Level 2 Wallbox charging to DC Fast charging, your BMW is equipped to accommodate the most common and convenient charging options available. Visit the BMW Electromobility page below to find the option that suits your lifestyle.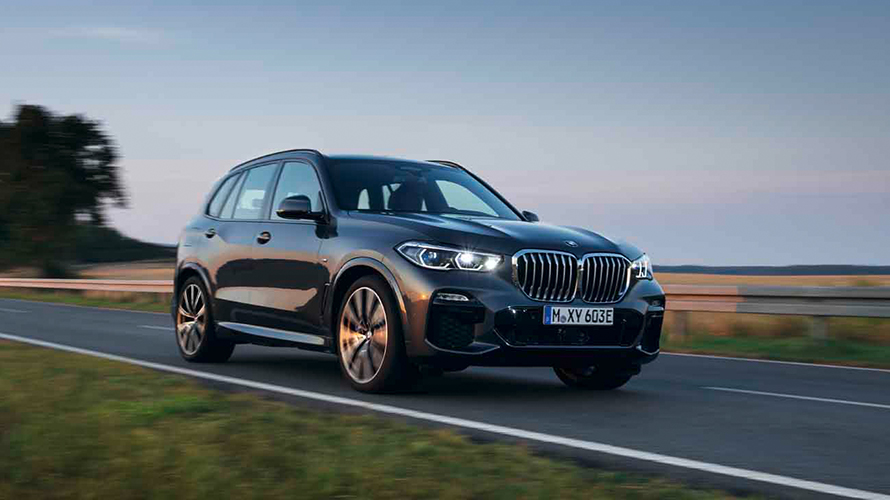 EXPERIENCE THE DIFFERENCE EVERY DAY
Choosing a plug-in hybrid can improve the efficiency of your daily drives and your daily life. In addition to potential fuel savings and preferential parking for charging, you could save time with single-occupancy HOV lane access and more. Visit the BMW Electromobility page below to explore the many benefits of switching on to an electric lifestyle.