YOUR NEXT OPEN-AIR ADVENTURE AWAITS.
Discover the BMW Cabriolet model for you.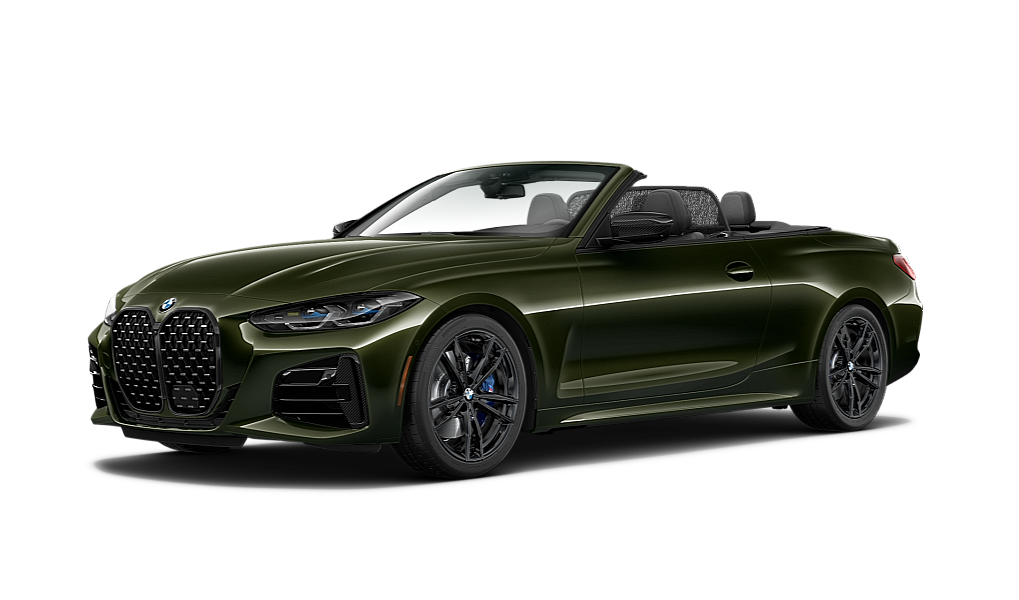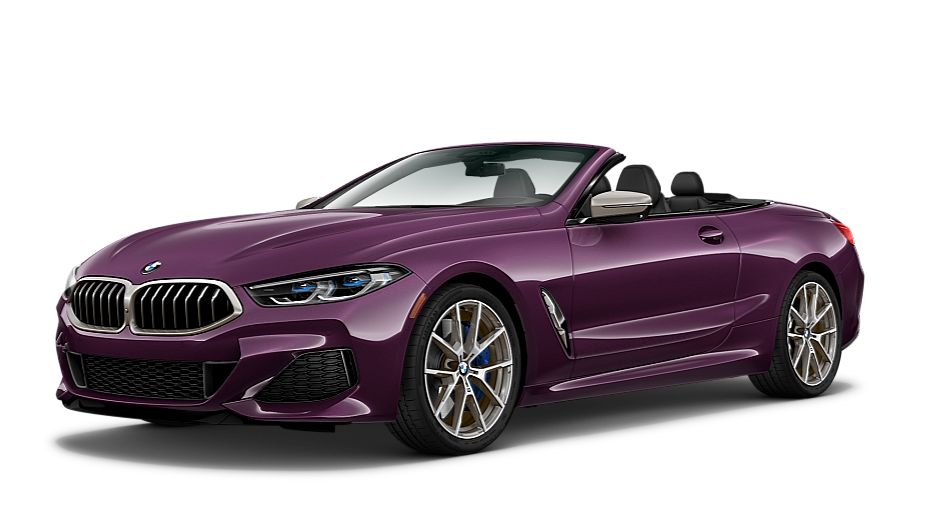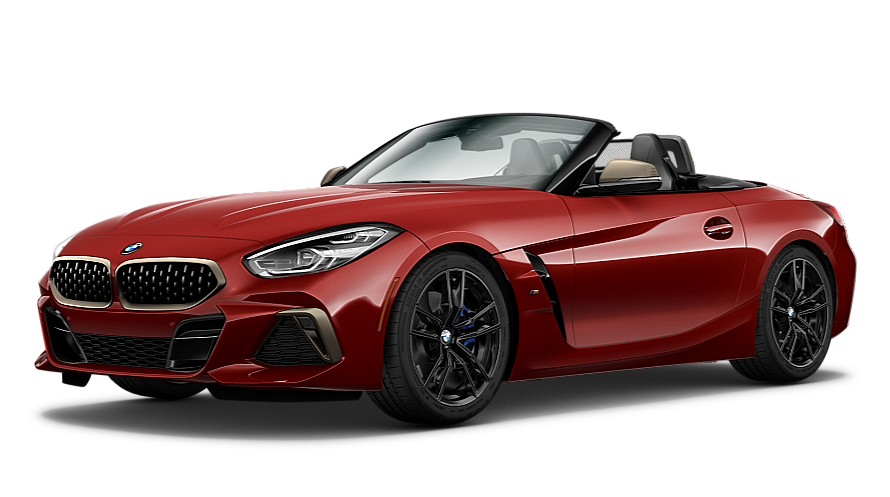 The BMW 4 Series Cabriolet
The all-new BMW 4 Series Cabriolet inspires with its defiantly original aesthetic. From its stretched silhouette to its tailored top, it strikes a perfect balance between sportiness and elegance, while exuding a character that is all its own. And thanks to the optimally tuned drivetrain and suspension technologies, it's as thrilling to drive as it is to look at. European model shown.
The BMW 8 Series Cabriolet
The BMW 8 Series Cabriolet is a statement of luxurious sportiness. A characterful example of the BMW luxury class whose progressive form radiates maximum appeal and confidence. In addition, it boasts captivating high performance with cutting-edge technologies that lend it outstanding dynamics and handling characteristics – for top ambitions and a new dimension of driving excitement.
The BMW Z4 Roadster
When the roof opens there are no limits to driving pleasure in the all-new BMW Z4. Built upon the legendary design of the classic BMW roadster, it integrates new levels of performance, luxury, and modern technology to carry its legacy forward. With powerful driving dynamics and an indisputably progressive design, it's an irresistible force that embodies everything a roadster should be.
AN AIR OF DISTINCTION.
Individualized design.
Inside and out, the design of each BMW Cabriolet model instantly conveys a sense of relaxed sportiness and individualized aesthetics. Striking exterior elements such as the distinct coupe-style silhouette and the BMW kidney grille in mesh design are sure to turn heads – even when the top is closed. But with ultra-refined interiors that project the highest levels of luxury and individuality, you'll be more inclined to keep the top open at every opportunity.
The elegant interior design of the BMW 4 Series Convertible.
The interior of the BMW 4 Series Convertible conveys sporty exclusivity with every detail. Simple and clearly drawn shapes define the modern design and create a coherent impression of dynamics and driver orientation.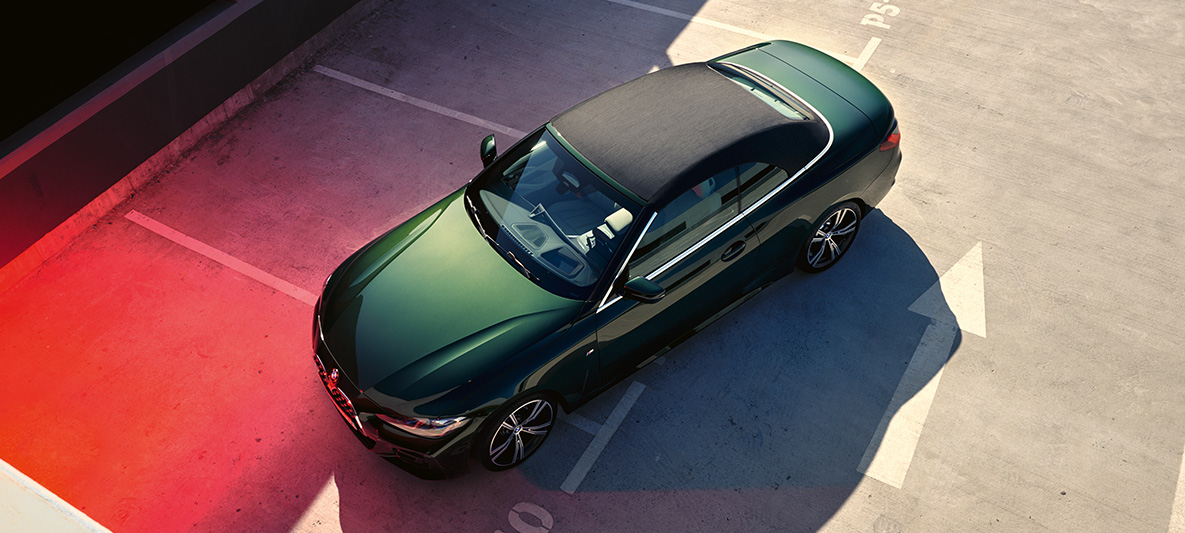 The soft top of the BMW 4 Series Cabriolet.
The elegant top of the BMW 4 Series Cabriolet combines the comfort of a hardtop with the classical sporty look of a fabric top. The newly developed convertible top inspires with its flat design, low weight and optimal level of comfort in terms of both acoustics and climate. With its innovative technical details, the softtop of the BMW 4 Series Convertible represents a milestone in the development of modern fabric Cabriolet tops.
With the roof open, the BMW M8 Competition Cabriolet appears even more elongated and particularly elegant. When closed, the softtop gives the luxury convertible a distinctive notchback silhouette with an unmistakable character. During the journey, it can be opened and closed automatically in only 15 seconds at speeds of up to 50 km/h.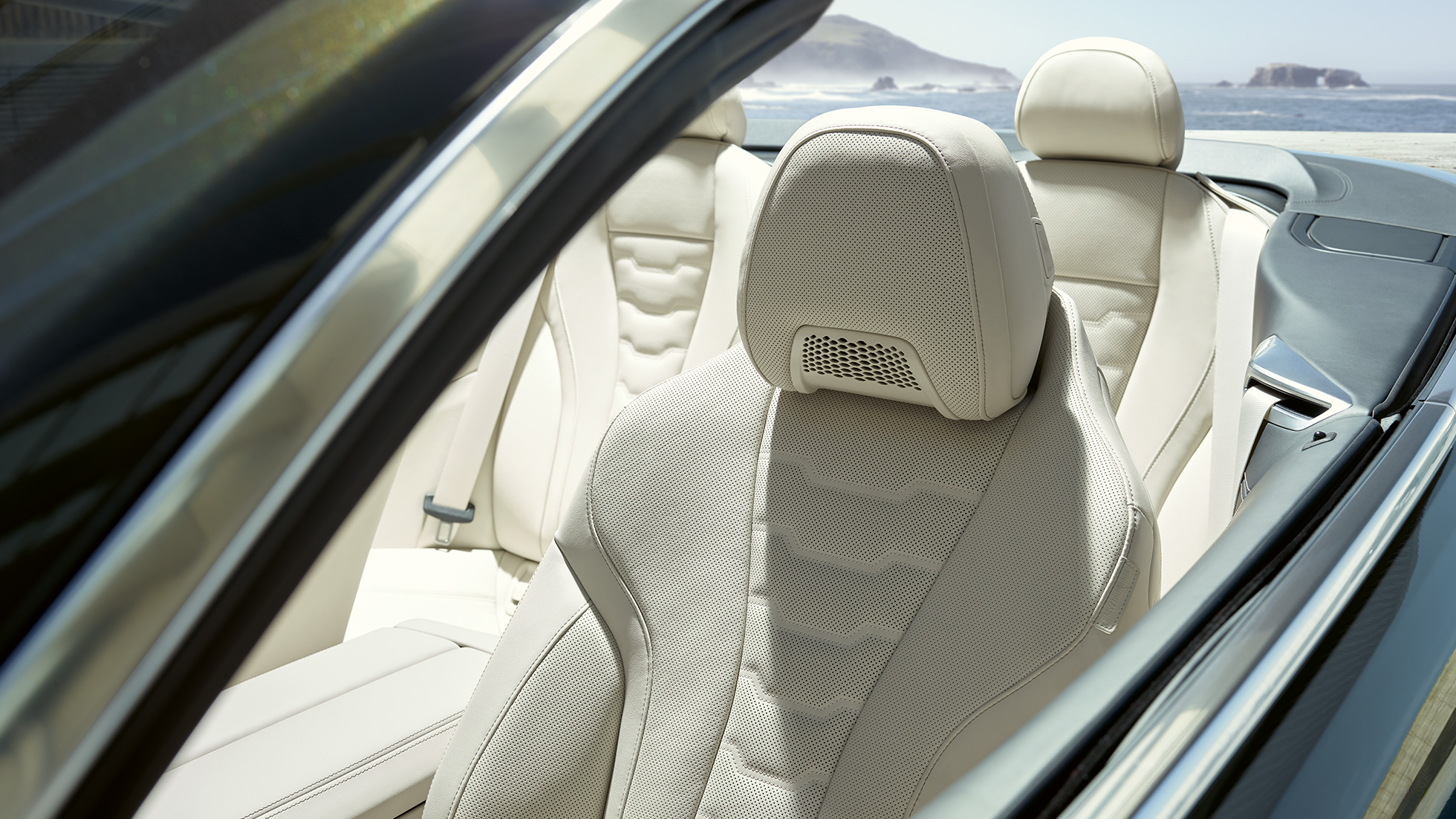 The exclusive multifunctional seats for driver and front passenger in the BMW M850i xDrive Cabriolet with active seat ventilation and neck warmer exceed even the highest expectations. The seats are covered with the finest leather and can be optimally adjusted to personal requirements by means of an electric backrest width adjustment, a variable lumbar support and manual seat depth adjustment. They combine maximum comfort and excellent lateral support in every driving situation.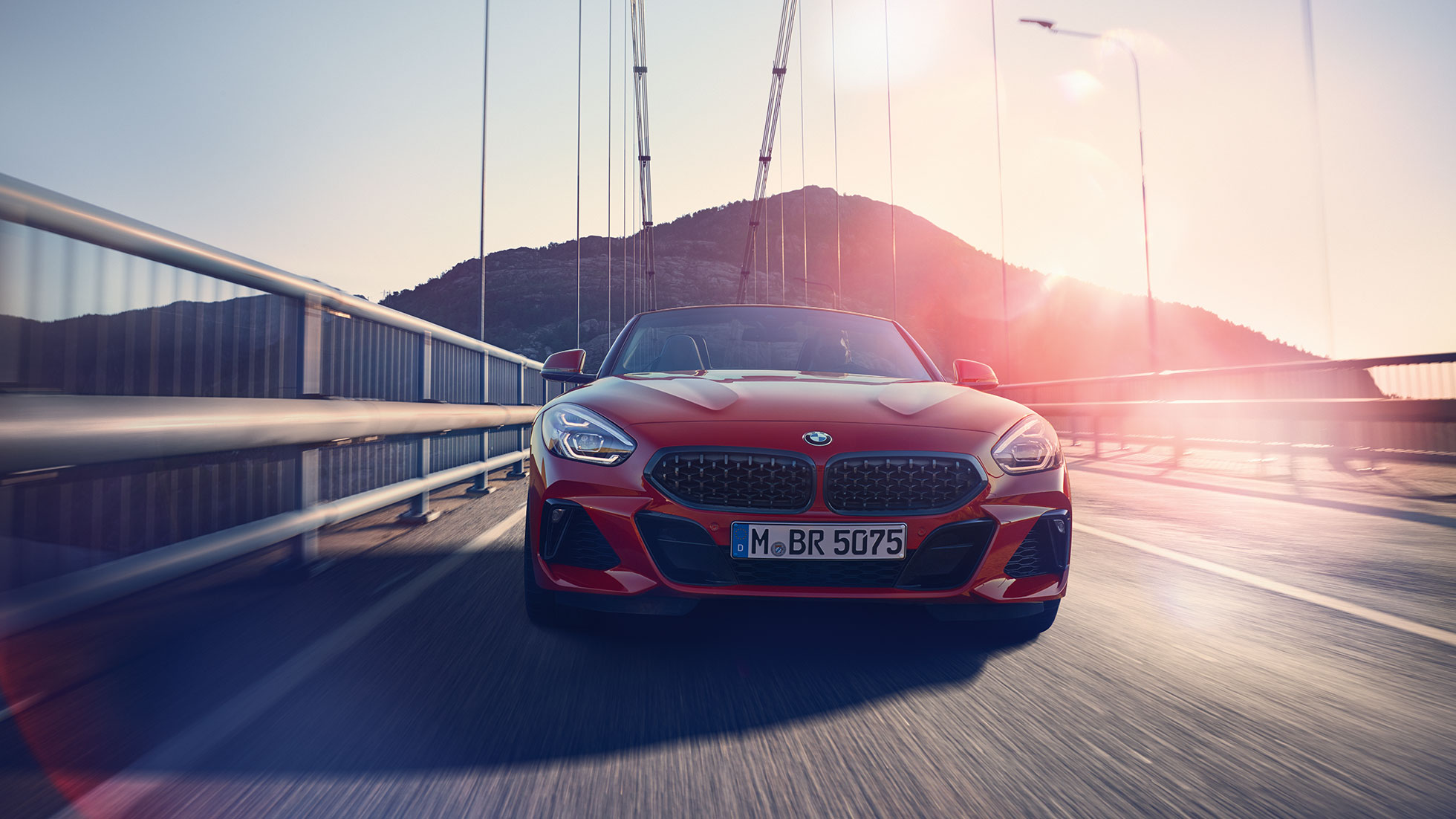 TOP DOWN, PULSE UP.
Unparalleled driving dynamics.
Limitless exhilaration, enhanced by the sun and the wind. With their innovative powertrains, outstanding aerodynamics, and near-perfect 50:50 weight distribution, each and every model in the range is tuned to deliver the exceptional agility and driving dynamics for which BMW is known. And thanks to the added element of top-down driving, they create an experience that translates power into adrenaline and acceleration into freedom.
BOUNDLESSLY DYNAMIC.
Driving dynamics and efficiency of the BMW 2 Series Cabriolet.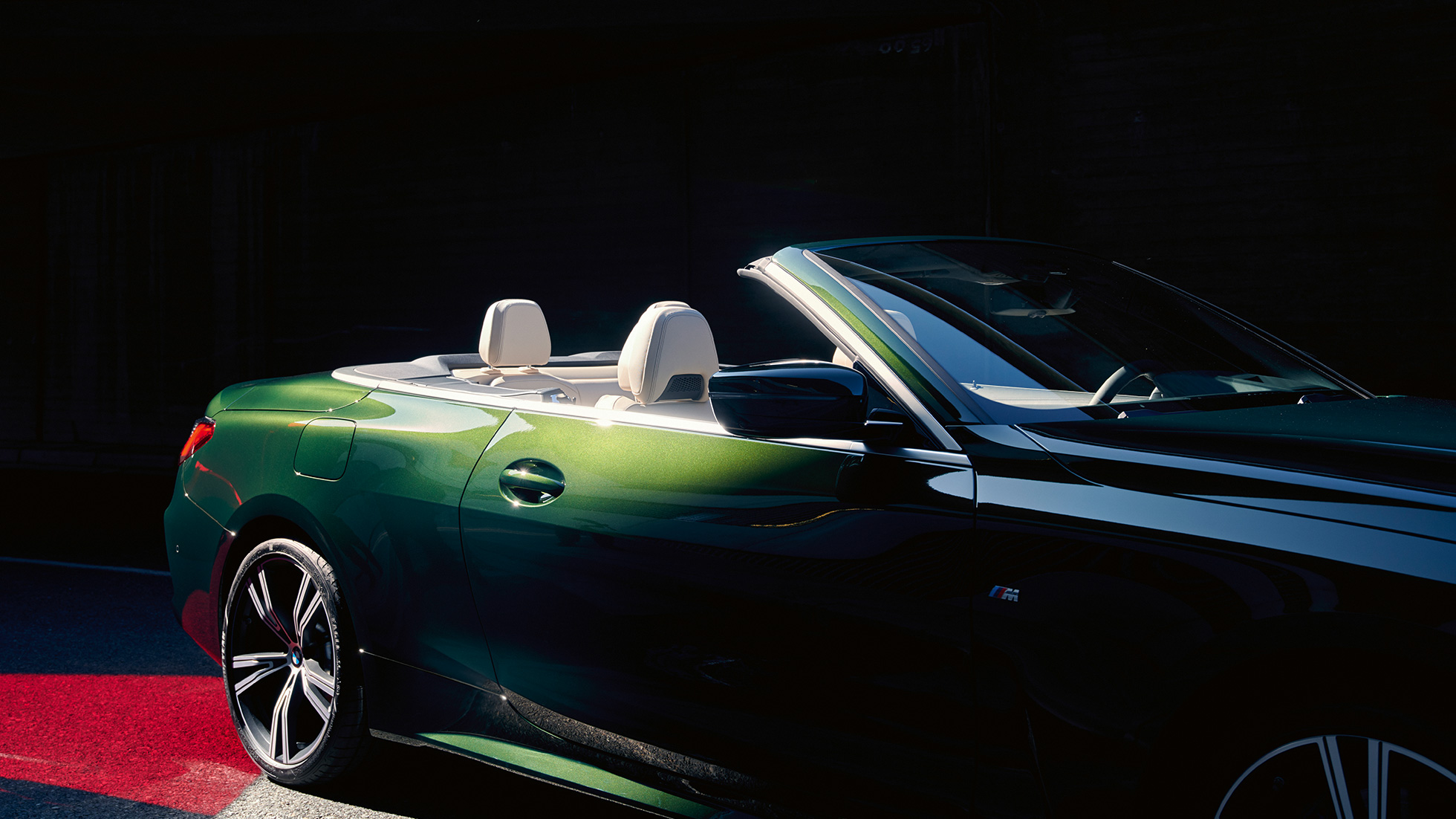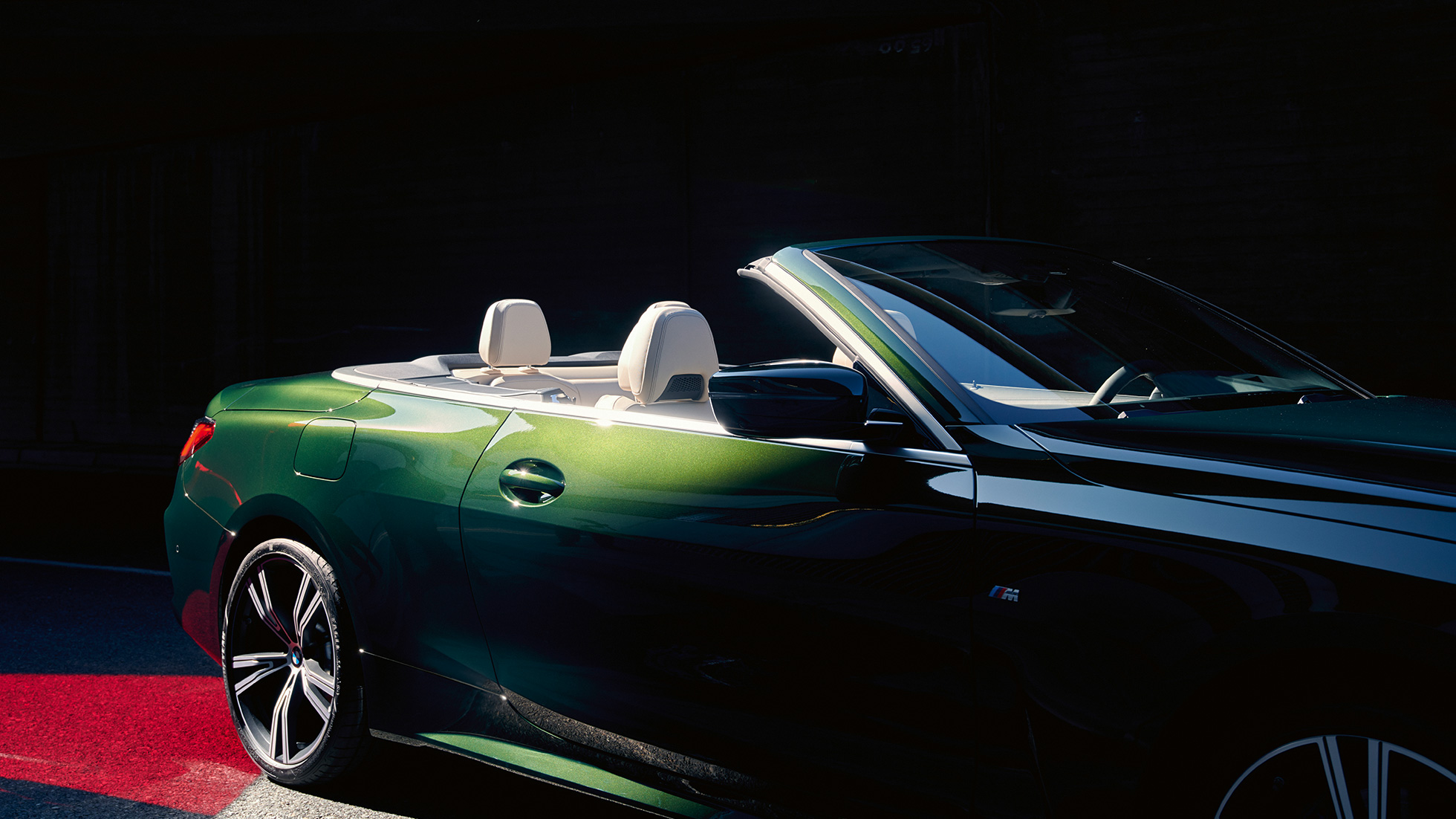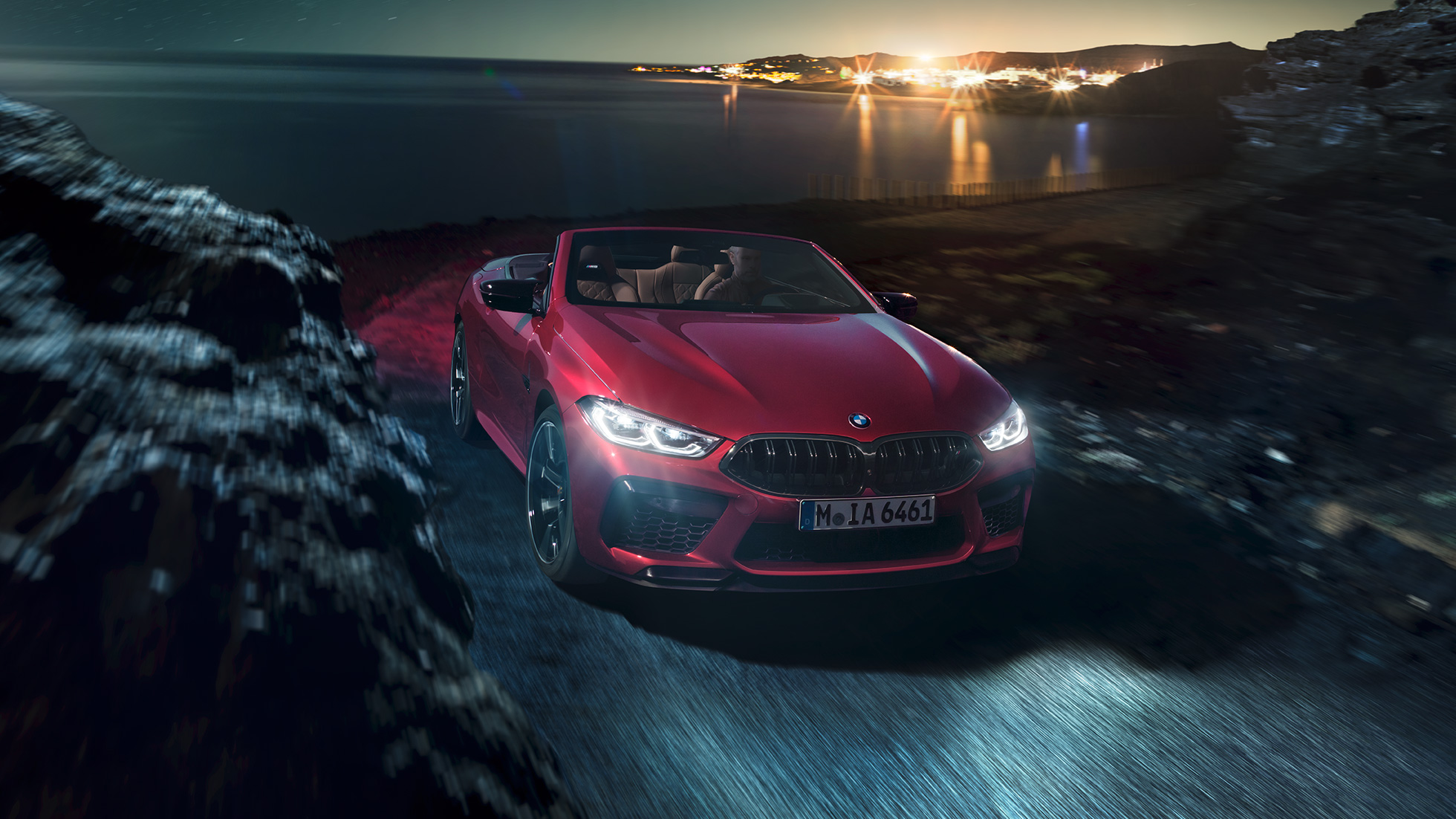 EXCEPTIONAL PERFORMANCE.
THE HIGH-PERFORMANCE M TWINPOWER TURBO 8-CYLINDER PETROL ENGINE.
The powerful 4.4-litre bi-turbo engine of the BMW M8 Competition Cabriolet delivers an outstanding 617 hp and 553 lb-ft. of torque. A cross-bank exhaust manifold optimises the response of the M power unit, a similar design to that used in motor racing. Two Twin Scroll exhaust turbochargers optimise the power output to supply an exceptional performance – both on the road and on the racetrack.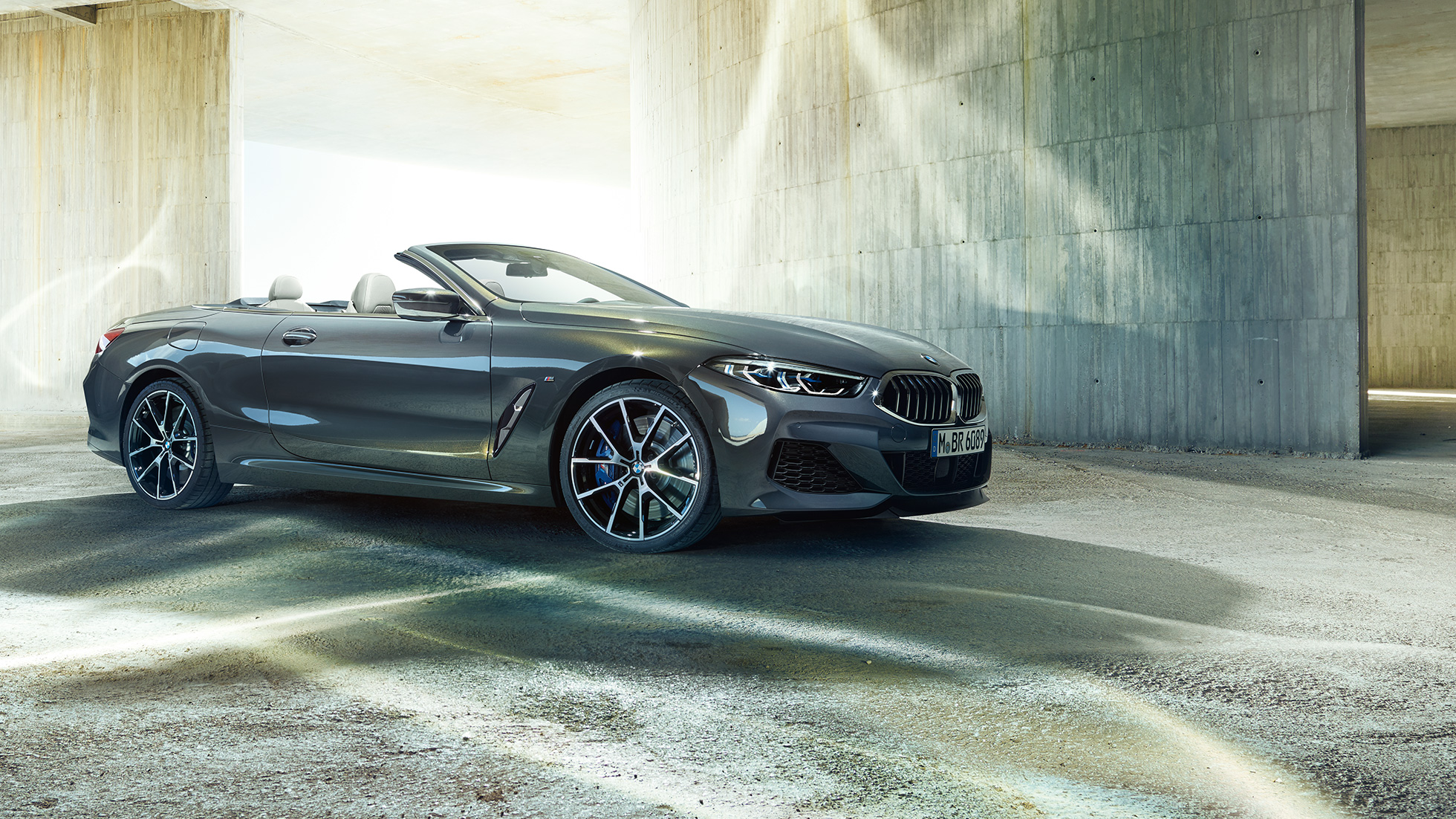 PERSUASIVE POWER.
DRIVE TRAIN OF THE BMW M850i xDRIVE CONVERTIBLE
With its 4.4 litre displacement, 523 hp and 553 ft-lbs of torque, the mighty M TwinPower Turbo 8-cylinder petrol engine of the BMW M850i xDrive Cabriolet provides pure exuberance at all times.
SPARKS ENTHUSIASM.
The exterior design of the BMW Z4 Roadster.
The leading role on every road: the San Francisco Red metallic paint finish with its bold character ensures the BMW Z4 Roadster of a spectacular appearance while the dynamic interplay of clearly drawn lines simultaneously emphasizes its muscular silhouette.
THE NEXUS OF CONNECTIVITY.
Intelligent driver assistant systems.
Experience the ultimate in control and connectivity with BMW's state-of-the-art cockpit technology. From the innovative Driving Assistant through to the Parking Assistant, each premium feature has been thoughtfully integrated to increase comfort and convenience, while offering you seamless connectivity that you're sure to enjoy upon every journey.
BMW Live Cockpit Professional.
The BMW Live Cockpit Professional with navigation function includes two high-quality displays consisting of a high-resolution 10.25" Control Display that can be operated by touch and a fully digital 12.3" instrument display. The BMW Operating System 7 can also be operated via the iDrive Touch Controller.
BMW Operating System 7.
The innovative operating concept of the BMW Operating System 7 enables even easier operation of vehicle functions via e.g. speech, touch screen and iDrive control – very intuitively. For this purpose, the functionality of the Controller has been upgraded. So now the apps menu can be selected directly.
BMW Intelligent Personal Assistant.
'Hey BMW. Who are you?' Wouldn't it be incredible if your BMW was also your personal assistant? Communicate with your vehicle using the BMW Intelligent Personal Assistant. It knows you, gets better every day and helps out whatever the situation. You also can assign your own personal activation word. It can explain everything about your vehicle and helps you to get to know your BMW even better.
Driving Assistant Professional.
Driving Assistant Professional offers optimum comfort and safety during critical or monotonous traffic situations. Apart from the contents of the Driving Assistant, it also includes Steering and Lane Control Assistant with extended functions, Emergency Stop Assistant and Lane Keeping Assistant with active side collision protection.
Parking Assistant Plus.
Parking Assistant Plus makes parking and manoeuvring the vehicle easier. It features among others the Surround View system including Top View, Panorama View, Remote 3D View, as well as a lateral parking aid, the emergency braking function Active Park Distance Control, Parking Assistant with longitudinal and lateral guidance and Reversing Assistant.
Smartphone integration.
Why go without the features of your smartphone in your BMW when you can continue operating it as usual? With smartphone integration, your vehicle supports Apple CarPlay® and Android Auto by means of a wireless connection between your smartphone and the vehicle. This allows you to conveniently use familiar functions and various apps in the vehicle.
Digital Key.
Why take your key with you if you have your smartphone with you? You can lock and unlock your BMW and even start it with the Digital Key. You can also authorise up to five people with an iPhone – if compatible – to use your BMW. Among other things, drive power and maximum speed can be limited, e.g. for novice drivers.* *The BMW Digital Key is only compatible with selected iPhones. A list of compatible iPhones is available at bmw.com/digitalkey.
Remote Software Upgrade.
Do you want your BMW to be up to date with the latest software? With Remote Software Upgrade, your BMW will always be up to date. Upgrades are installed over the air, just as they are for your smartphone. In this way, other functions in your vehicle can also be activated.
BRING THE RACETRACK TO THE ROAD.
BMW M Performance Parts & Accessories.
Take the performance, look, and feel of your BMW Cabriolet to an entirely new level with BMW M Performance Parts & Accessories. Whether you're looking to accentuate the dynamic appearance of your vehicle with an M Performance Kidney Grille, or create a motorsport-inspired cockpit with the M Performance Carbon Fibre Interior Trim, you'll find no shortage of options to lend a more sporting, individualized edge to your BMW.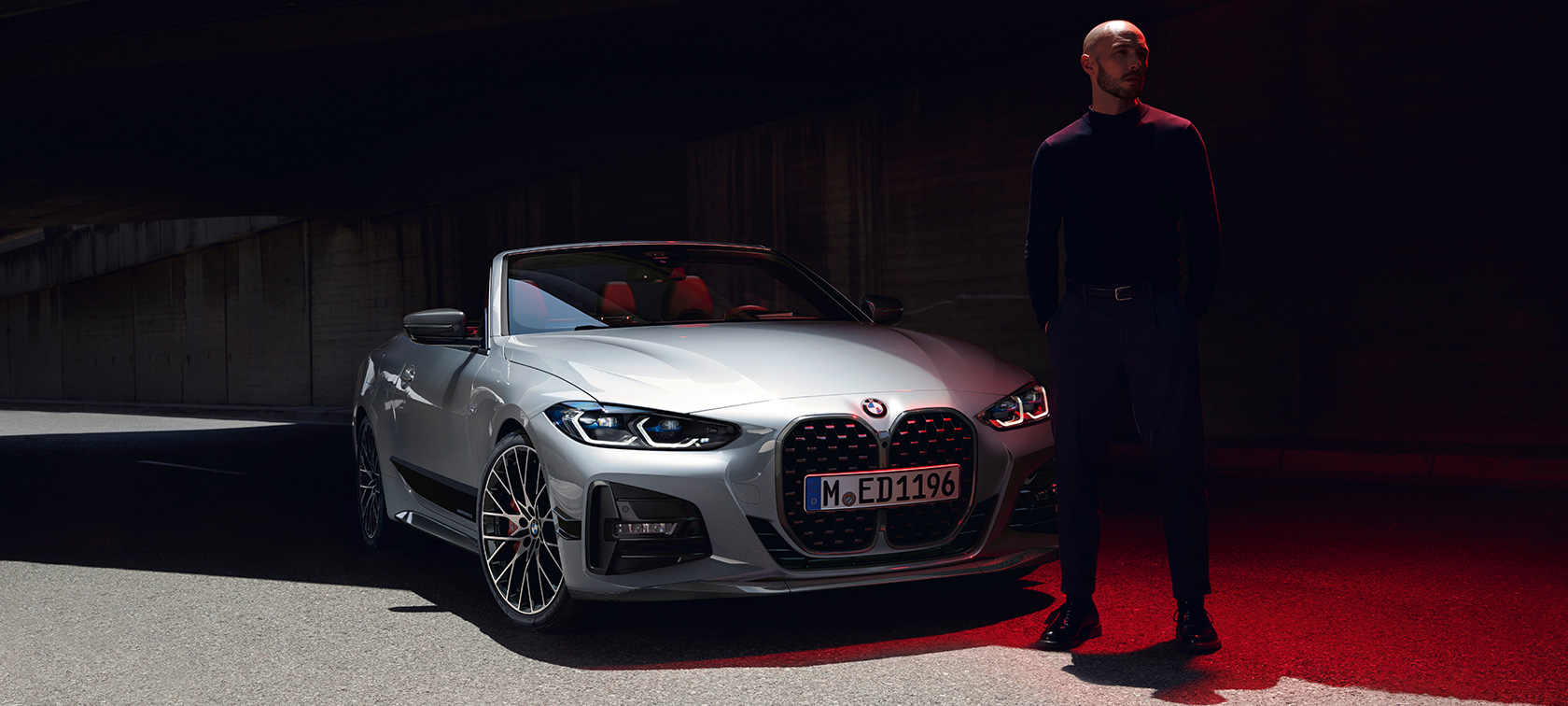 Driving Dynamics
Original BMW Accessories
BMW M TwinPower Turbo inline 6-cylinder petrol engine.
Commanding power, silky-smooth running and a stirring sound are the hallmarks of the BMW M TwinPower Turbo inline 6-cylinder petrol engine from the new generation of the BMW EfficientDynamics engine range. With Double-VANOS, Valvetronic, High-Precision Injection and a TwinScroll turbocharger, it is particularly powerful and efficient.
M Performance front splitter in carbon fibre.
Make a strong statement: the M Performance front splitter made of carbon fibre highlights the vehicle's masculine appearance in a highly exclusive manner. A unique motorsport look for anybody who refuses to compromise.
M Performance kidney grille, carbon fibre.
Show your style: The frame of the M Performance front grille is made of hand-crafted premium carbon fibre and the decorative slats consist of extra sturdy plastic. A visual highlight at the front of the vehicle for an especially elegant, sporty and individual look.
Variable sport steering.
The Variable sport steering with Servotronic creates a direct and agile steering response and ensures that less physical effort is required to turn the wheel. It reacts to the angle of the steering wheel with varying steering ratios. This improves handling when driving more dynamically and reduces the effort needed to steer when parking and turning.
8-speed M Steptronic transmission.
The 8-speed M Steptronic transmission with Drivelogic offers numerous shifting options: from extremely dynamic to particularly comfortable, and smooth to fuel-saving. You can shift manually using the gear lever or the gearshift paddles on the steering wheel, or put the vehicle into automatic mode and let the transmission do the work.
M Sport brake.
The M Sport brake has four-piston fixed calipers at the front and single-piston floating calipers at the rear in Blue metallic with the M logo and features large brake discs to ensure an outstanding braking performance. Adapted to the vehicle's very high dynamic potential, it also allows an exceptional athletic driving style and excellent braking on wet surfaces.
M Performance side skirt extension in carbon fibre.
Inspiring visuals: the M Performance side skirt extension is made of premium carbon fibre and elaborately manufactured by hand. It optically lengthens the proportions of the vehicle, lending it an even more dynamic appearance. For an extremely athletic and elegant look.
Adaptive M suspension.
The Adaptive M suspension makes it possible to adjust the damper characteristics to suit any given driving situation, increasing driving dynamics and comfort. In addition to the standard COMFORT setting for increased driving comfort, the SPORT programme offers firmer damper settings, and with SPORT+, the vehicle can be used on the race track.
M Sport exhaust system.
The M Sport exhaust system delivers a dynamic sound that can be modified via the integrated exhaust valve mechanism. The SPORT and SPORT+ programmes, which can be selected via the Driving dynamics buttons, are accentuated by an even more intense engine sound, while the comfort-oriented programme prioritises more discreet engine acoustics.
BMW Advanced Car Eye 2.0.
The BMW Advanced Car Eye 2.0 is a highly sensitive full-HD camera that captures events in front of and behind the car, even when it is parked. In the event of disturbances and extraordinary movement outside the vehicle, the camera automatically records the situation in order to document possible accidents or (attempted) break-ins.
BMW rear bike rack Pro 2.0.
The BMW rear bicycle rack Pro 2.0 is lightweight yet sturdy and can carry up to 60 kg. Outstandingly easy to handle, it can transport two bicycles or e-bikes (can be extended to accommodate three bicycles). Its tilt function allows easy access to the luggage compartment at any time.
18" M Performance light alloy wheel Double-spoke style 796 M Jet Black matt, summer complete wheel set.
The high-quality 18" M Performance light alloy wheels Double-spoke style 796 M are designed in Jet Black matt with the colour M logo. TPMS Summer complete wheel set with run-flat tyres, wheel size 7.5J x 18 with tyre size 225/45 R18 95Y RSC at the front and 8.5J x 18 with 255/40 R18 99Y RSC at the rear.
BMW luggage compartment mat.
The anti-slip, water-resistant and durable BMW luggage compartment mat with raised borders on all sides and a shapely design protects the luggage compartment from dirt and moisture. Designed in black and equipped with a high-quality stainless steel inlay, the fitted mat perfectly blends into the interior of the luggage compartment.
BMW all-weather floor mats front.
The perfectly fitted, durable BMW all-weather floor mats with a raised border and elegant design protect the front footwell against moisture and dirt. They are black and feature a stainless steel inlay.
BMW LED door projectors.
The innovative BMW LED door projectors are automatically activated when opening the doors and project an image onto the ground next to the vehicle via an interchangeable slide. Several motifs are available to choose from to perfectly illuminate the entry area in an individual style.
*Accessories may not be available for all models. Please contact your local BMW Retailer for more information.
Read more
CABRIOLET M VEHICLES
BMW M4 COMPETITION CABRIOLET
Maximum driving dynamics with M xDrive
BMW M Performance TwinPower Turbo inline 6-cylinder engine

The 8-speed M Steptronic Sport transmission with Drivelogic

BMW M xDrive all-wheel drive with M Rear Differential

503hp, 479 LB-FT, 0-100km/h in 3.7 sec
BMW M440i xDRIVE CABRIOLET
Open sportiness and high driving dynamics with unlimited suitability for everyday use.
BMW M TwinPower Turbo inline 6-cylinder petrol engine with 382 hp

8-speed Steptronic Sport transmission

BMW xDrive

382 hp, 368 ft/lb, 0-100km/h in 4.5sec
BMW M8 COMPETITION CABRIOLET
Maximum driving dynamics and exclusivity
High-performance M TwinPower Turbo 8-cylinder petrol engine

M xDrive with Active M differential and 8-speed M Steptronic transmission with Drivelogic

Exclusive design elements and equipment

617 hp, 553 lb-ft., 0–100 km/h in 3.3 s
BMW M850i xDRIVE CABRIOLET
Powerful performance with a luxurious flair
M TwinPower Turbo 8-cylinder petrol engine

8-speed Steptronic Sport transmission

BMW xDrive with M Sport differential

523 hp, 553 lb-ft, 0–100 km/h in 3.9 s
BMW Z4 M40i
Defined by sportiness and agility.
BMW M TwinPower Turbo 6-cylinder petrol engine

8-speed Steptronic Sport transmission

M sport differential

382 hp, 0-100km/h in 4.1sec
BMW M4 COMPETITION CABRIOLET
BMW M440i xDRIVE CABRIOLET
BMW M8 COMPETITION CABRIOLET
BMW M850i xDRIVE CABRIOLET
BMW Z4 M40i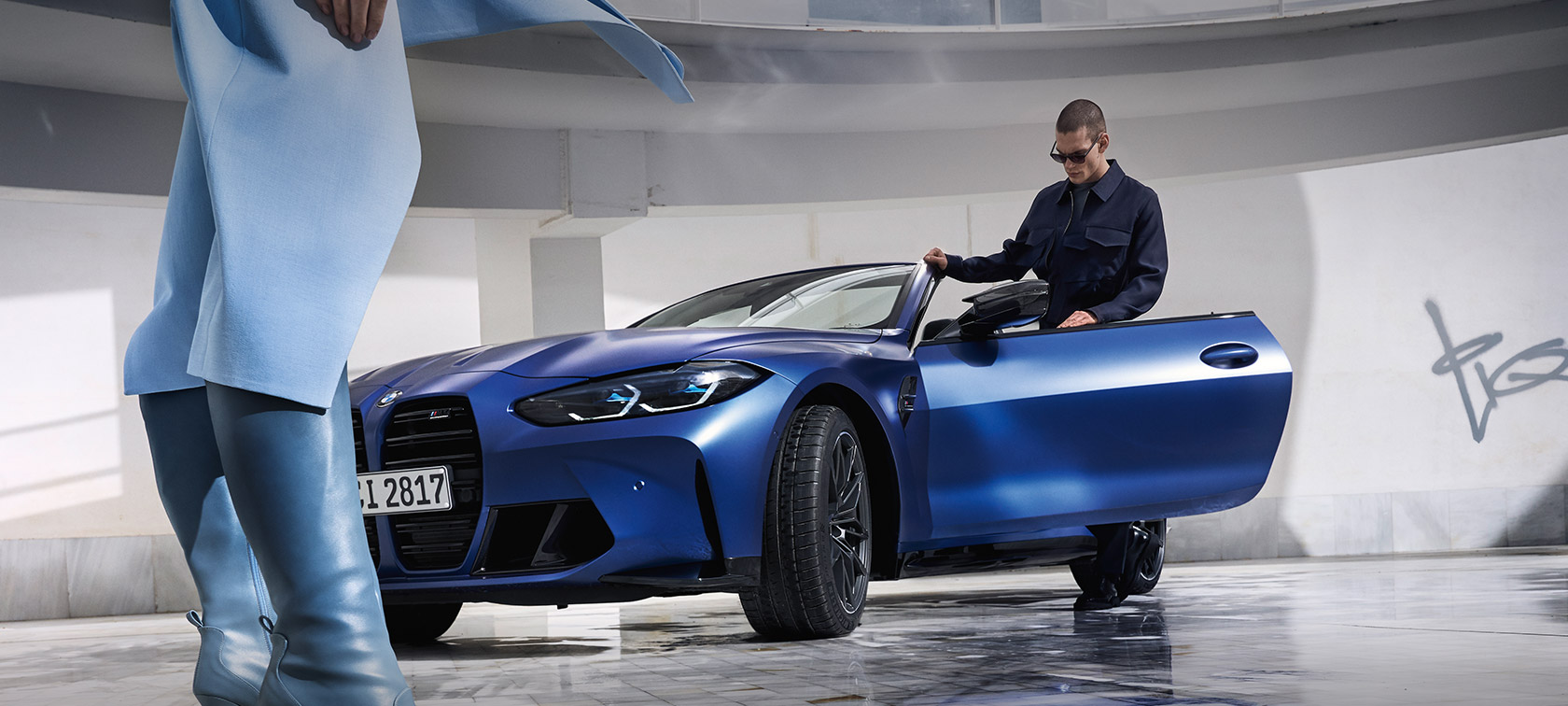 FIND YOURS TODAY.
BROWSE OUR CURRENT INVENTORY TO FIND YOUR NEXT BMW.