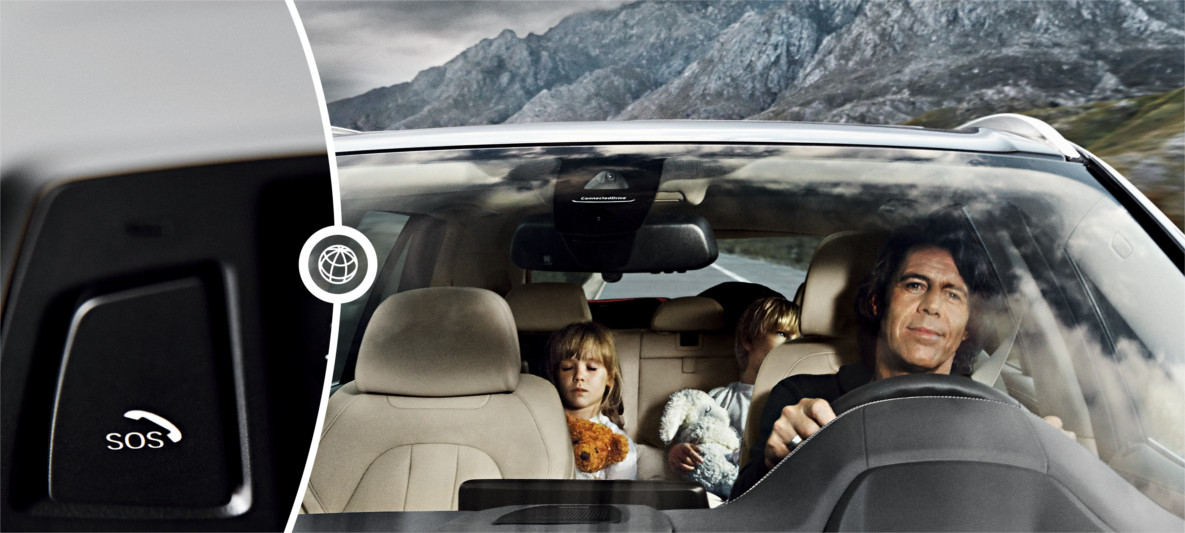 BMW ASSIST: SOS + SERVICE.
BMW Assist provides an extensive range of services and benefits* to help in the event of an emergency. Log in to My BMW to check the status of your subscription. For more information, contact an authorized BMW Retailer.
*BMW model year 2014 and newer come with BMW Assist for 10 years with an active Electronic Subscriber Agreement (ESA).
BMW Assist (SOS) Emergency Call

After pressing the SOS button, your vehicle's location and other important data are transmitted to the BMW Assist Response Centre. A response specialist will speak with you to coordinate dispatch, notify your emergency contacts, and link you to BMW Roadside Assistance* as needed/requested. Emergency directions may also be provided.

If an airbag is deployed, BMW Assist Emergency Call automatically contacts the BMW Call Centre via an accident-proof telephone unit permanently installed in your vehicle. Specially trained personnel will then establish contact with you and inform emergency services.

The same connection simultaneously transfers the position of the vehicle to the nearest metre together, as well as data relevant to the rescue services, such as risk of injury, number of passengers, model and colour of the vehicle. The emergency call can also be triggered manually, such as if you need to summon assistance for other road users.

*Services and benefits subject to change.


Remote door unlock

This helpful feature allows you to gain access to your BMW if you are ever locked out of your vehicle. Simply call BMW Assist toll free, provide your name and password, and a response specialist will send a signal to your vehicle to remotely unlock the driver's door.


Stolen vehicle recovery

If your BMW is ever stolen, after filing a police report, call the BMW Assist Response Centre to remotely activate your BMW Assist system to locate your vehicle and help the police recover it. This service may even reduce your insurance premium.

Customer relations specialist

For questions, general comments and concerns, you can speak to a BMW Customer Relations Specialist at the touch of a button. Simply press the SOS button or, if applicable, select the "Customer Relations" tab in the BMW Assist section of the iDrive menu.

*BMW Canada Customer Service regular business hours are Monday–Thursday, 8:30 am to 8:00 pm (ET) and Friday, 9 am to 6 pm (ET).


Automatic collision notification

In the event of an impact, collision, or rollover, the location and vehicle information are automatically sent to the BMW Assist Response Centre. A response specialist will then attempt to establish voice contact with you, or the vehicle's occupant. In the event there is no response, the Response Centre will direct the appropriate emergency services to the vehicle's location. If contact is established, the response specialist will provide a reassuring presence, while a second specialist will coordinate emergency dispatch.


Vehicle requirements

BMW Assist Emergency Call is standard on all model year 2014 and later BMW vehicles and is free for the first 10 years. For model year 2013 and older, the vehicle must be equipped with the 6NL BMW Assist with Extended Bluetooth option and have an active subscription.

To subscribe to BMW Assist Emergency Call, a BMW Assist Electronic Subscriber Agreement must be completed. To submit an agreement, contact your local BMW Retailer.

To check the status of your BMW Assist subscription, log in to My BMW.
GET TO KNOW BMW ASSIST.
Would you like to know more about BMW Assist Services? You'll find answers, links and contact information here.
Read more
Does BMW Assist track the vehicle's location?

No, the BMW Assist system only transmits the vehicle's location when you request BMW Roadside Assistance, or when the vehicle automatically initiates an Automatic Collision Notification after an airbag deploys. The BMW Response Centre cannot determine the vehicle's location without the vehicle or occupant initiating this request for service. Vehicle speed or previous locations are not transmitted. BMW protects all customer information, and only uses it to fulfil the service request.


Will BMW Assist work when the vehicle is in a tunnel or in an isolated area?

BMW Assist uses advanced digital and analogue cellular service throughout Canada and the U.S. Therefore, it will work effectively in most areas, unless the vehicle is in a location where cellular service is unavailable.

What is the advantage of BMW Assist compared to a cellular phone?

Unlike a cell phone with a small battery, BMW Assist is powered by the vehicle's robust 12-volt system. Therefore, BMW Assist is ready as long as the vehicle's battery is functional. With three watts of available transmission power, the BMW Assist system has up to five times more strength than a conventional cell phone. Further, the rooftop antenna offers improved reception and transmission capability.

How much does BMW Assist Emergency Call cost?

For Model Years 2014 and newer, all BMW vehicles come with Emergency Call free for ten years. For MY2013 and earlier vehicles, the cost of subscription is $199/year, plus applicable taxes. The Bluetooth® hands-free calling capability with speech recognition is a feature of the BMW Assist system and does not require a subscription to BMW Assist Services.

How can I check the status of my subscription?

Log in to My BMW to check the status of your subcription and for more information contact an authorized BMW Retailer or call BMW Assist toll-free at 1-800-493-4070.


How can I change my subscriber information?

To change your subscriber information, please call the BMW Assist toll free number at 1-800-493-4070.