Sporty performance that electrifies: for the first time, the BMW i4 M50 xDrive combines the innovative power of BMW M with that of BMW i. As a result, the BMW i4 M50 xDrive with its fully electric drive fed by two BMW M eDrive motors develops up to a tremendous 536 hp* in Sport Boost mode and offers the typical BMW M dynamics. This novel, completely emission-free driving pleasure is accompanied by a progressive design – and rounded off by an atmosphere that is sporty, exclusive and ultra-modern in equal measures. As the first purely electric Gran Coupé from BMW M, this exceptional vehicle creates a class of its very own and impresses with its large range, luxurious amount of space and intelligent connectivity with a remarkable level of everyday practicality.

DISCOVER THE ULTIMATE
ELECTRIC DRIVING MACHINE.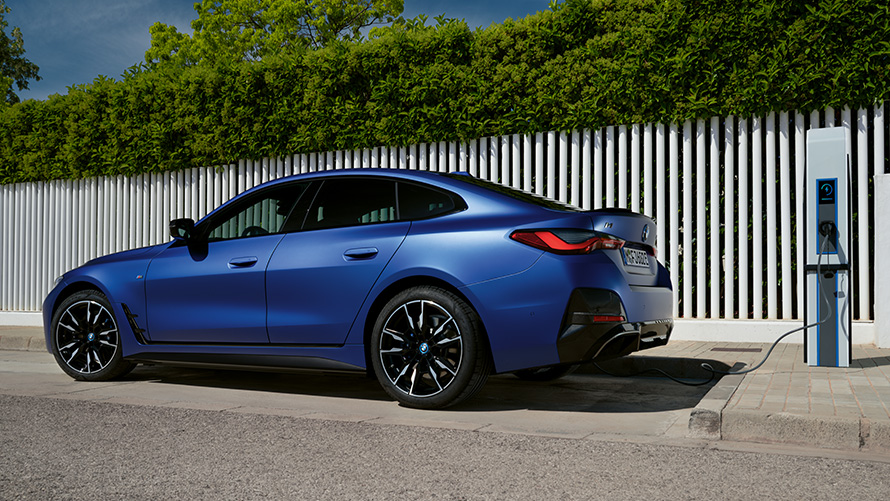 THE PERFORMANCE OF THE BMW i4 M50 xDRIVE.
Power train, suspension and performance.
BMW i4 M50 xDrive.
Adrenaline-charged electric driving dynamics with all-round everyday practicality.
Two BMW M eDrive engines with intelligent all-wheel drive BMW xDrive

Expressive sound powered by BMW M IconicSounds Electric

M Sport suspension, Variable Sport Steering and M Sport brakes as standard

536 hp, 0–100 km/h in 3.9 sec*

Up to 435 km* range
BMW i4 M50 xDRIVE – PRODUCT HIGHLIGHTS.
Driving dynamics and design features of the BMW i4 M50 xDrive.
Electrifies the senses: the BMW i4 M50 xDrive develops up to a powerful 536 hp with its two BMW M eDrive engines in Sport Boost mode and with numerous M specific technology features a completely new driving experience. This is characterized by uninterrupted acceleration from 0 to 100 km/h in 3.9 seconds*, adrenaline-charged dynamics with BMW M typical precision and a highly emotive driving sound powered by BMW M IconicSounds. Further enhanced by the standard-series M aerodynamics package and the optional M Technology package. Rounding off the dynamic appearance are exclusive design elements in Cerium Grey. In the interior, the new BMW Curved Display inclined towards the driver and the slim instrument panel define the ultra-modern ambience.
BMW M eDrive.
The BMW i4 M50 xDrive is based on the fifth-generation BMW eDrive technology. In addition to two high-performance electric motors, this encompasses the high-voltage battery, the power electronics and the charging technology for the vehicle. In Sport-Boost mode, the two powerful BMW M eDrive motors on the front and rear axle develop an impressive output of 536 hp to accelerate without interruption from 0 to 100 km/h in a mere 3.9 seconds. The specific positioning of the high-voltage battery reduces the vehicle's centre of gravity and along with the nearly 50:50 axle load distribution enhances the driving dynamics.
BMW M IconicSounds Electric.
BMW M IconicSounds Electric has created a separate highly emotive world of sound for the BMW i4 M50 xDrive. In this way you experience an expressive driving sound via the audio system in the interior and can enjoy the sheer driving pleasure with all your senses. The sound characteristics are adapted via the Driving Experience Control: ranging from powerfully dynamic with clear load feedback in SPORT mode, to harmonious acoustics with slight load feedback in COMFORT mode or completely silent in ECO PRO mode.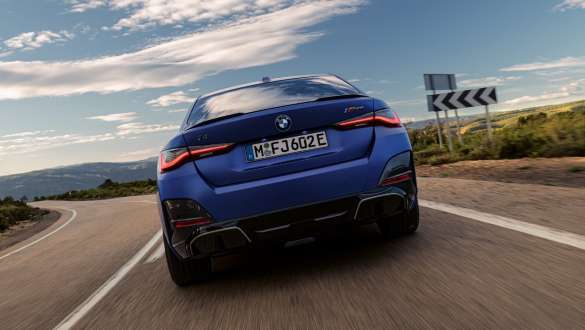 Adaptive with M suspension with specific setup.
The adaptive M suspension of the i4 M50 xDrive and the variable sport steering with M Sport brake ensure the greatest possible precision when driving. The specific tuning of all chassis and system components as well as specific body stiffness measures guarantee an M-typical driving experience at the highest level.
BMW i4 M50 xDrive drivetrain.
The high-performance drivetrain of the i4 M50 xDrive with two high-performance BMW M eDrive engines guarantees fast power delivery. The rear-biased setup of the all-wheel drive and an emotional sound highlight the sporty character. A large high-voltage battery with a high range ensures driving pleasure even on longer tours.
M Sport brake.
The M Sport brake has four-piston fixed calipers at the front and single-piston floating calipers at the rear in Blue high-gloss with the M logo and features larger brake discs to ensure an outstanding braking performance. Adapted to the vehicle's very high dynamic potential, it also allows an exceptional athletic driving style and excellent braking on wet surfaces.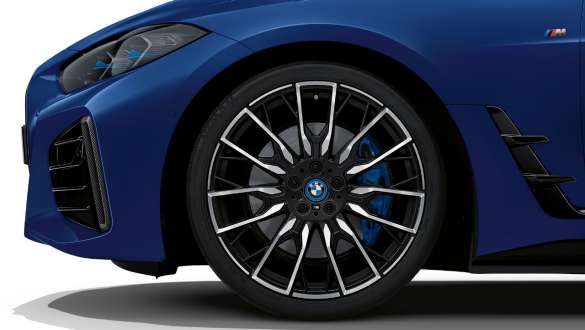 M Technology package.
With the M Technology package, the M Sport braking system on the front axle is reinforced by larger brake discs. The package is only available in conjunction with the 19" M light-alloy wheels double-spoke style 861 M with sport tyres or the exclusive 20" M light-alloy wheels double-spoke style 868 M with sport tyres, which ensure maximum performance even in sporty use.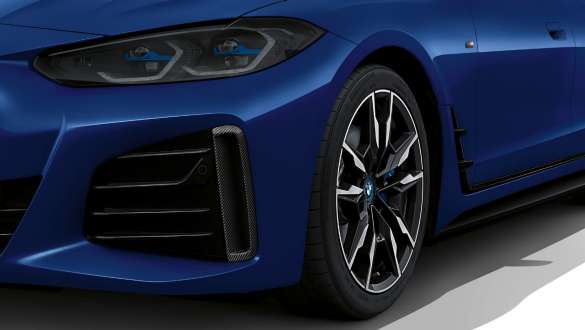 M Aerodynamics package.
The M Aerodynamics package with M-specific front and rear apron in the vehicle colour, design elements on the side sills in Black high-gloss and a two-piece diffuser insert in Dark Shadow metallic and Black high-gloss conveys pure dynamics and sporting character.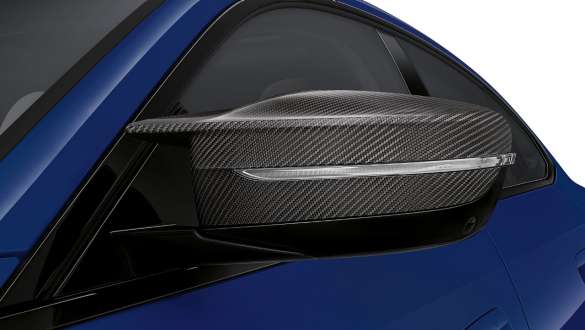 M Carbon exterior package.
The optional M Carbon exterior package underlines the athletic demands of the vehicle. Side spoiler elements of the air curtain in the front bumper and exterior mirror caps are made of carbon-fibre reinforced plastic (CFRP). The package is rounded off by side trims at the rear and a rear spoiler in specific geometry. The BMW i4 M50 xDrive also has M mirror caps in specific geometry.
M lights Shadow Line and BMW Laserlight.
The optional M lights Shadow Line include a black finish of all chrome elements in the headlights, creating an unmistakable design. In laser high-beam mode, the Adaptive BMW Laserlight illuminates a range of up to 550 m, nearly twice as far as that of conventional headlights. Better visibility in the dark significantly increases safety. Blue accents and the lettering "BMW Laser" in the headlight also underline the technological standards and the sporting character of the vehicle.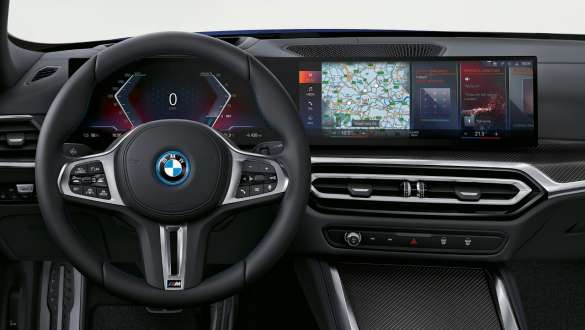 BMW Live Cockpit Professional with BMW Curved Display.
The latest generation of BMW Live Cockpit Professional awaits you in the BMW i4 M50 xDrive. This allows you to savour the appearance of the novel BMW Curved Display including M marking. This ultra-modern screen grouping encompasses the 12.3" instrument display and a 14.9" touchscreen under one common frameless glass surface. The slim Digital Display is bowed towards the driver and represents a particularly intuitive and ergonomic form of the driver orientation so typical of BMW M.
M leather steering wheel.
The M Leather steering wheel including multifunction buttons, an M badge and an integrated driver-side airbag is featured in three-spoke design. With a reinforced steering wheel rim in leather 'Walknappa' Black with contrast stitching in M colours and contoured thumb rests, it provides a direct, athletic steering sensation.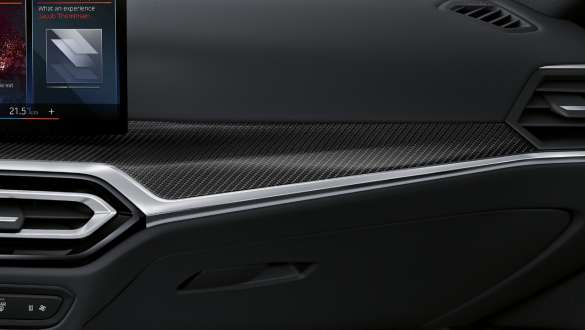 M interior trims 'Carbon Fibre'.
The high-quality 'Carbon Fibre' M interior trims with highlight trim finisher Pearl Chrome are the ideal match for the M Sport seats with bucket seat character and impart an extremely modern and dynamic look to the interior of the BMW i4 M50 xDrive.
BMW i4 M50 xDRIVE – EXCLUSIVE IMPRESSIONS.
The design highlights of the BMW i4 M50 xDrive in the exterior and interior.
THE EMOTIONAL SOUND OF THE BMW i4 M50 xDRIVE – POWERED BY BMW M ICONIC SOUNDS ELECTRIC.
BMW M IconicSounds Electric produces a highly emotive engine sound for the BMW i4 M50 xDrive and one that is fully in keeping with BMW M. Consequently, it ranges from powerfully dynamic with clear load feedback in SPORT mode, while COMFORT mode features harmonious acoustics with slight load feedback, and in ECO PRO mode it is completely silent to offer a high level of acoustic serenity.
THE BMW i4 M50 xDRIVE IS PRODUCED WITH 100% GREEN ENERGY.
The production of the BMW i4 M50 xDrive is always sustainable and uses green energy exclusively. In addition, the high-performance battery of the BMW i4 M50 xDrive was designed to completely avoid rare earth metals. The best thing, however, is that you are always on the road with zero local emissions when you drive the BMW i4 M50 xDrive, so you can always enjoy the dynamic driving experience carefree.
BMW M PERFORMANCE PARTS AND ACCESSORIES FOR THE BMW i4 M50 xDRIVE.
Discover sporty equipment and useful accessories for the BMW i4 M50 xDrive.
The BMW i4 M50 xDrive offers dynamic driving fun and a large number of sporty equipment options. BMW M Performance Parts allow you to maximise the dynamic appearance of the BMW i4 M50 xDrive and set genuine motorsport accents for both exterior and interior. And Original BMW Accessories are there to meet your special requirements. With individual additions and extras, of course, all of which provide a quality, design and performance perfectly coordinated with this all-electric sports car to offer maximum added value – whatever your plans may be.

BMW SERVICE INCLUSIVE FOR THE BMW i4 M50 xDRIVE.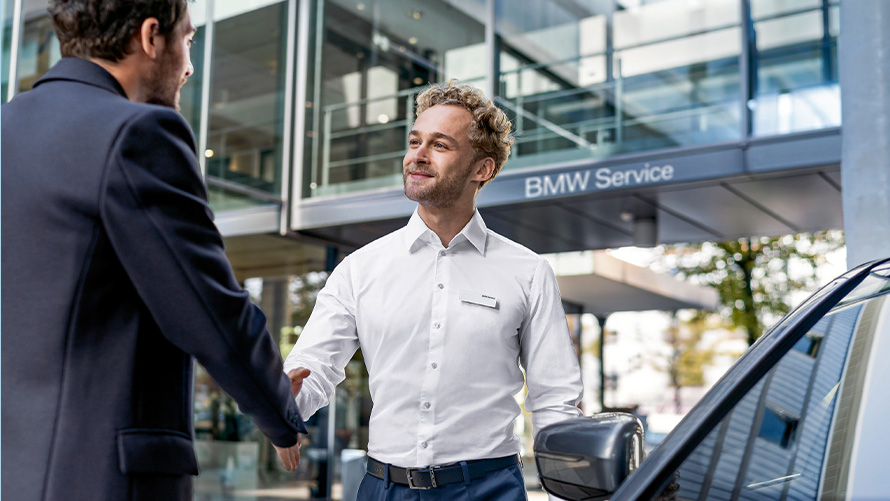 #whateverhappens. All-round carefree travelling: this package offers you 100% transparency and convenient ease of planning for your selected term of duration or mileage.
Vehicle check service in accordance with BMW guidelines
Microfilter service
Brake fluid service
​
European model shown.

*Electric range may vary based on driving habits and other factors. Estimated range is based on Government of Canada approved criteria and testing methods. Horsepower and acceleration performance metrics as reported by BMW AG. For more information visit https://fcr-ccc.nrcan-rncan.gc.ca/en

**The My BMW App is optimized for BMW vehicles from 2016 model year and newer in conjunction with the option ConnectedDrive Services and a compatible smartphone. Available apps and services are subject to change, may vary by location or other factors. May require additional services, plans, subscriptions and vehicle options, and may only be operable in conjunction with certain smartphones and operating systems (smartphone not provided). Not all apps or services may be available for all BMW models.