BMW M2 CS, BMW M2 Competition and BMW M240i Coupé – equipment, details and innovative technologies.
Discover the BMW 2 Series Coupé M Models in detail: Find out about highly developed drive train and chassis components, powerful engines and sporty design features. Get an insight into the innovative digital BMW services and driver assistance systems.
THE BMW 2 SERIES COUPÉ M MODELS IN COMPARISON.
Quick facts: drive train, suspension and performance.
BMW M2 CS
Every detail is designed for high performance and special racetrack capability.
High-performance M TwinPower Turbo 6-cylinder petrol engine with 444 hp

Specifically tuned Adaptive M suspension

Weight-optimized exterior parts made from carbon fibre (CFRP)

444 hp, 406 ft-lb, 0–100 km/h in 4.0 sec with M DCT
BMW M2 COMPETITION
Convinces with an outstanding combination of performance, agility and precision.
High-performance M TwinPower Turbo 6-cylinder petrol engine with 411 hp

M specific suspension with Active M differential

Exclusive M specific design options in the exterior and interior

411 hp, 405 ft-lb, 0–100 km/h in 4.2 sec with M DCT
BMW M240i COUPÉ
The perfect fusion of sportiness and comfortable everyday suitability.
M TwinPower Turbo 6-cylinder petrol engine with 340 hp

8-speed Steptronic Sport transmission

Optional all-wheel drive BMW xDrive

340 hp, 369 ft-lb, 0–100 km/h in 4.6 sec
BMW M2 CS
BMW M2 COMPETITION
BMW M240i COUPÉ
BMW M2 COMPETITION: PERFORMANCE FEATURES.
Overview of the drive train and chassis technologies inspired by motorsport.
The BMW M2 Competition features numerous drive train and chassis components inspired by motorsport – to provide more performance, more agility and more precision.
High-performance M TwinPower Turbo 6-cylinder petrol engine.
The high-performance M TwinPower Turbo 6-cylinder petrol engine features superior power delivery and the striking characteristic M engine sound. Two mono-scroll turbochargers, direct High-Precision Injection, fully variable valve control and variable camshaft control ensure an output of 411 hp* and consumption of 9.2 litres per 100 km (with DCT).
M Sport brake.
The powerful M Sport brake with large compound brake discs, six-piston fixed callipers at the front and four-piston fixed callipers at the rear is characterized by increased fading stability and thermal stability. The exclusive brake callipers in Grey metallic bear M lettering.
M Sport exhaust system.
The M Sport exhaust system delivers a dynamic sound that can be modified via the integrated exhaust valve mechanism.
M specific suspension with Active M differential.
The M specific suspension highlights the vehicle's great dynamic potential. The Active M differential optimizes traction and driving stability when taking bends at high speeds or on different road surfaces.
7-speed M double-clutch transmission.
Shift gears without losing power, using the clutch or slowing down: the 7-speed M double-clutch transmission with Drivelogic. Gears can be changed automatically or manually using the gearshift paddle switches on the steering wheel, or the gear selection lever. Launch Control guarantees maximum acceleration from a standing start. Alternatively, a manual 6-speed M transmission is available.
BMW M2 COMPETITION: DESIGN FEATURES.
M specific design elements in the exterior and interior.
The design of the BMW M2 Competition is a powerful expression of highest performance. Perfectly fitting M design elements emphasize the sporting character of the vehicle – underlined by impressive 19'' light alloy wheels. The dynamic character continuous to the interior; accentuated by exclusive M specific details.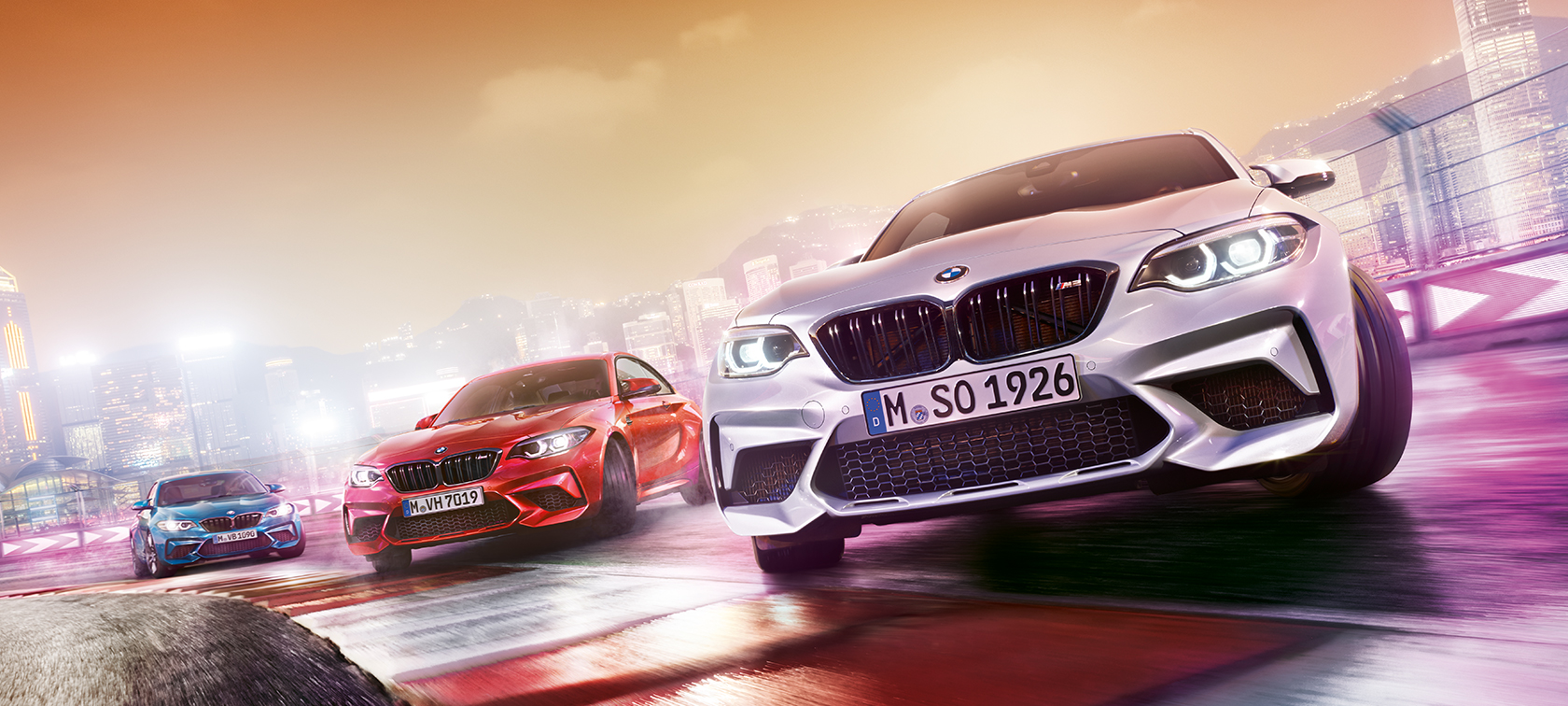 M specific front apron.
In the front apron, the enlarged external air inlets instantly catch the eye. Together with the M kidney grille, they dominate the front section, emphasizing the powerful and athletic character. Three additional narrow openings in the central air inlet improve air throughput and aerodynamics.
M side air vents.
The characteristic M side air vent with the M2 model designation, which adds a pronounced three-dimensional athletic touch, underscores the vehicle's impressive potential and gives an exciting foretaste of the extraordinary driving experience that awaits. It exemplifies the dynamic combination of technical perfection and breathtaking design that has been synonymous with M vehicles since day one.
M exterior mirrors.
The aerodynamically optimized M exterior mirrors are a significant part of the sporty and dynamic M design. Attached to the body by a double-bridge designed base, they underscore the beautiful aesthetics of the car and convey a sense of precision engineering down to the last detail. The additional LED indicators are fitted perfectly into a long, narrow groove.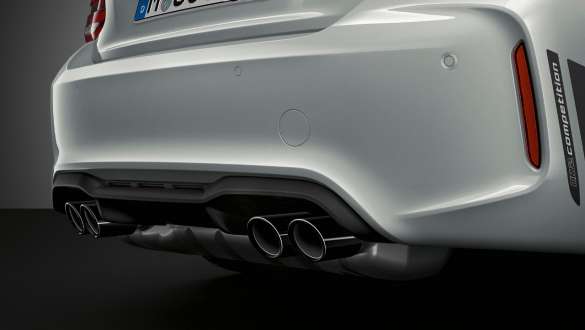 Exhaust tail pipes in Black chrome.
Double round exhaust tail pipes left and right at the rear visually emphasise the vehicle's performance.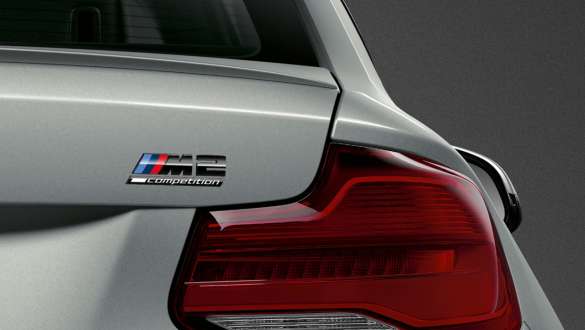 M2 Competition badge.
The M2 Competition" designation on the rear is an indication of the vehicle's extraordinarily high driving dynamic potential.
Light alloy wheels Y-spoke 788 M.
The exclusive 19" M light alloy wheels in Y-spoke 788 M style are optionally available in a dark finish and convey pure athleticism inside the powerfully shaped wheel housings.
M leather steering wheel.
The M leather steering wheel including multifunction buttons, the M badge, chrome detailing and an integrated driver-side airbag has the Double-spoke design. Featuring a steering wheel rim in black leather with colour contrast stitching and contoured thumb rests, it feels great in the hand. The driver can also use the M Drive buttons to select the desired settings whilst driving.
M Sport seats.
The optional multi-adjustable M Sport seats with bucket seat character and integrated headrest provide excellent lateral support for the driver and front passenger. In addition, the backrest width can be individually adjusted. Their special design with illuminated M2 logo highlights the vehicle's athletic capabilities.
M specific instrument display.
The instrument cluster in M specific design includes two classic round instruments with red pointers for speed and engine speed, as well as two more analogue displays for the fuel gauge and current fuel consumption. The centrally integrated Info Display provides the driver with numerous additional information from the on-board computer.
Door sill finishers with "M2 Competition" designation.
M door sill finishers with the "M2 Competition" designation on chrome-plated inserts in the front sills emphasise the vehicle's athletic ambitions and set the mood for the driving experience to come.
M seat belts.
The M seat belts with belt tensioner and belt force limiter boast an exquisite woven highlight in the classic M colours. They complement the colour scheme of the ergonomic optional M Sport seats while adding optically to the overall M specific concept.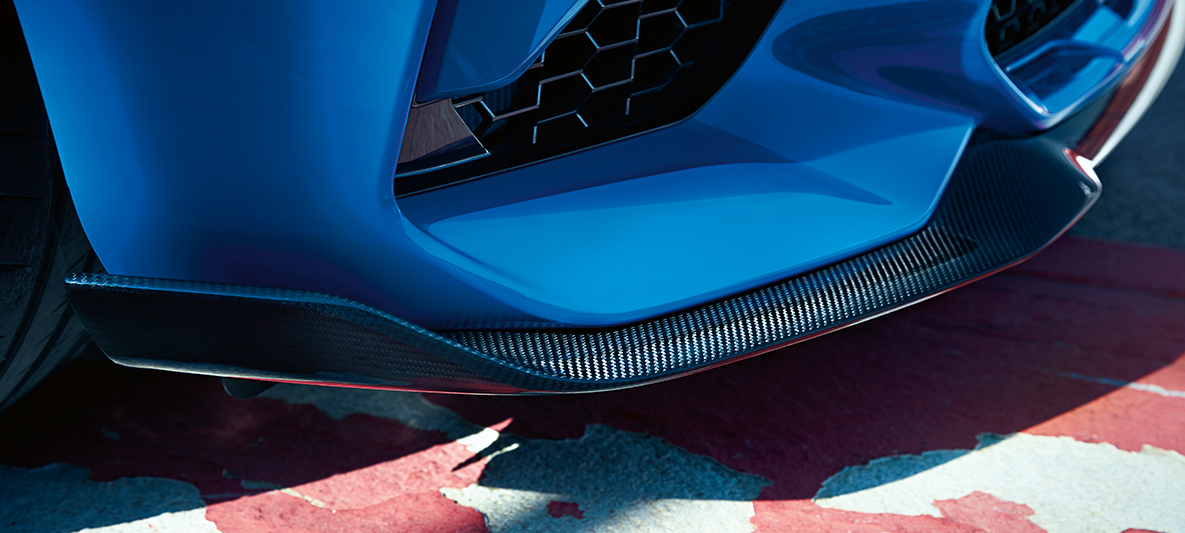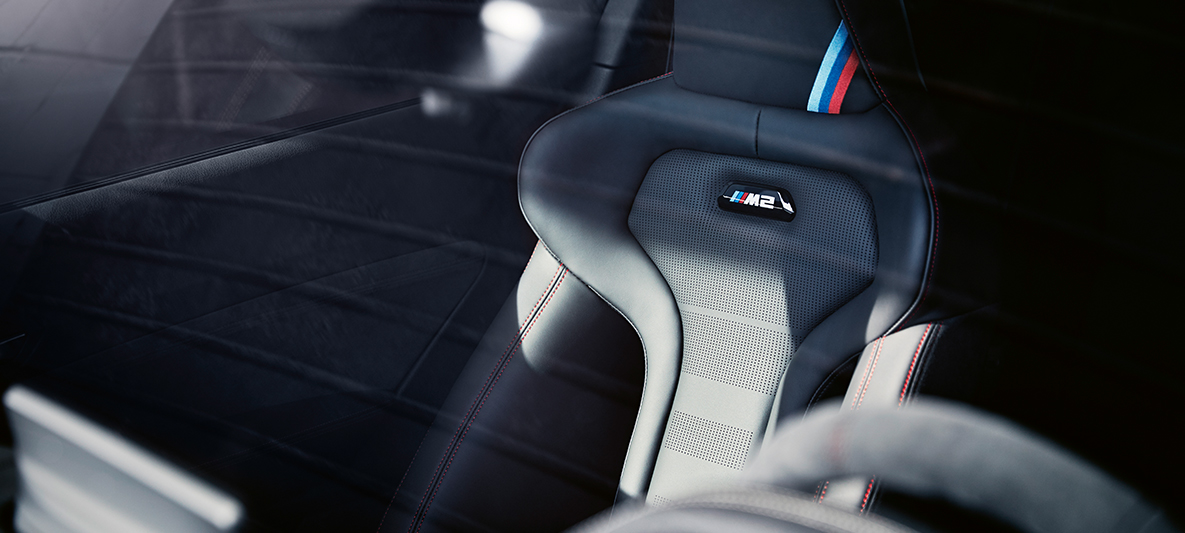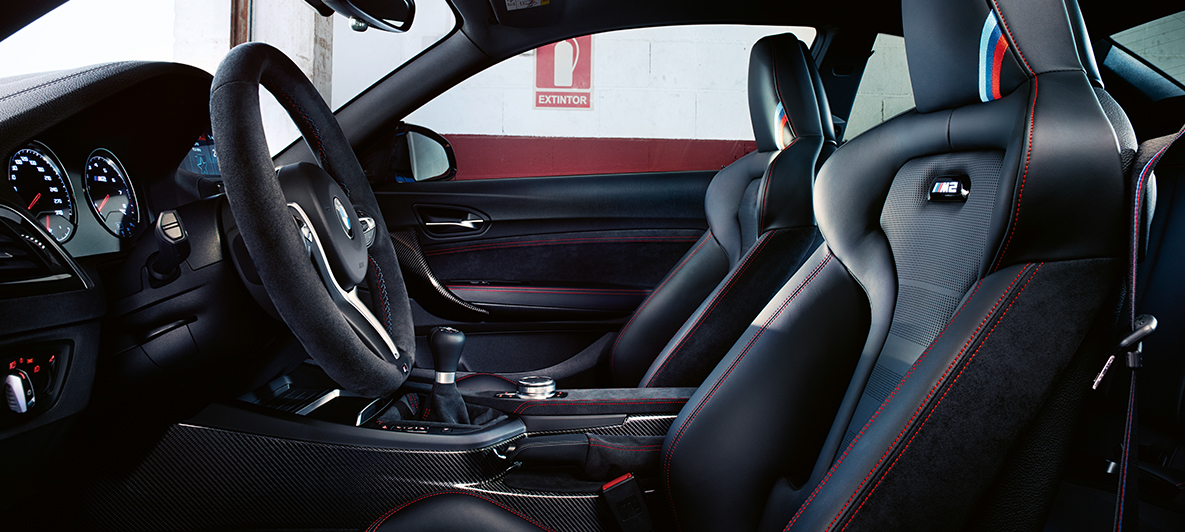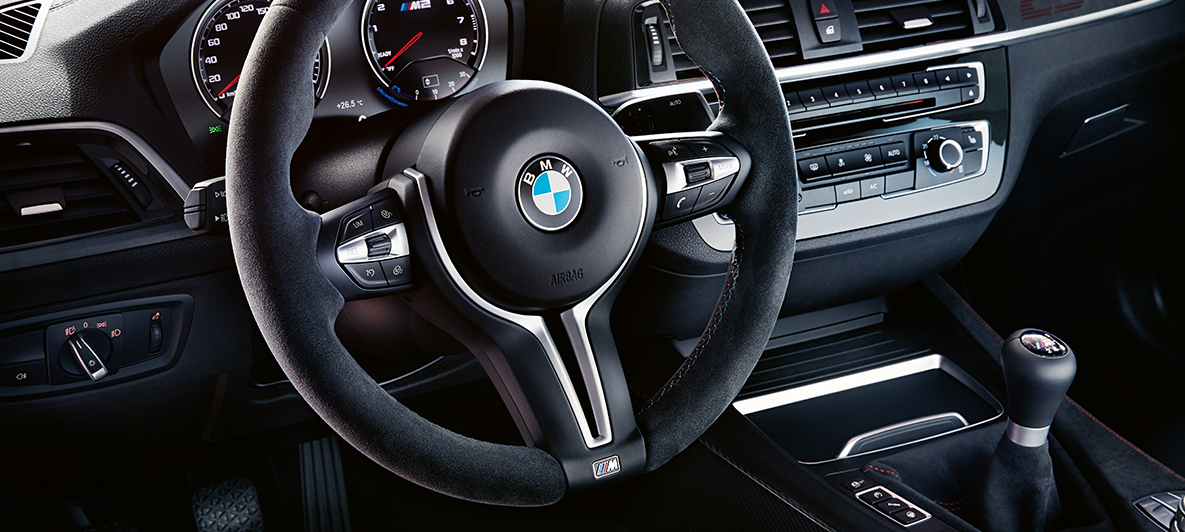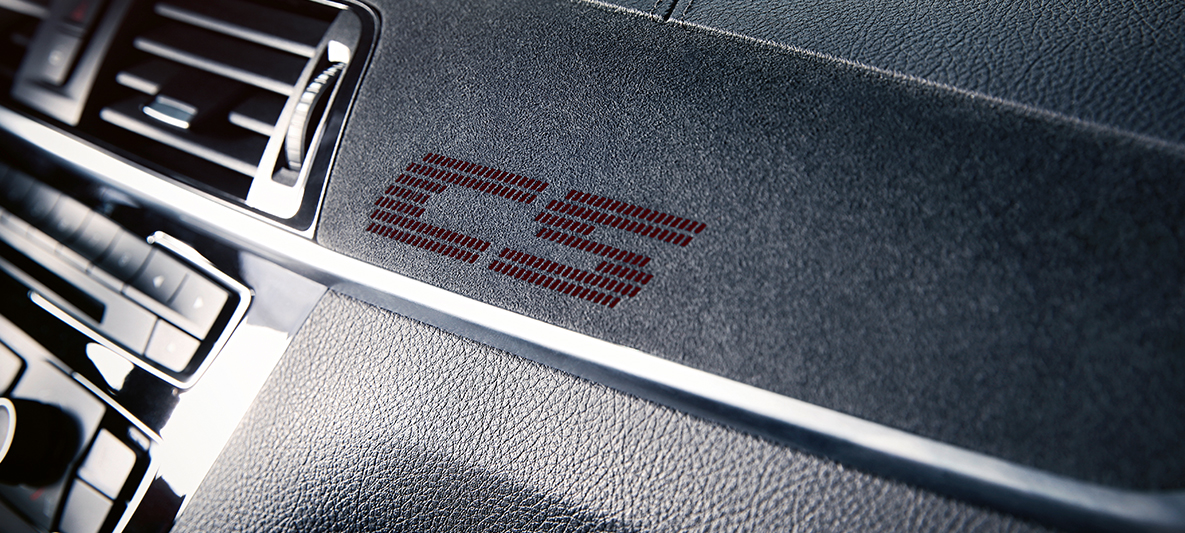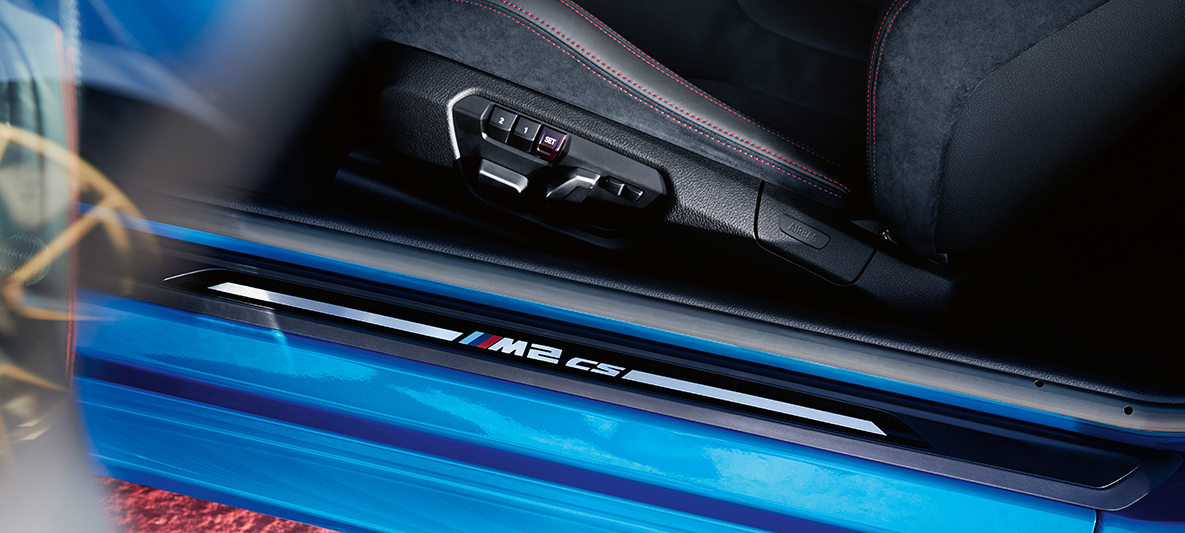 BMW M2 CS: HIGHLIGHTS.
The BMW M2 CS is a thoroughbred M automobile that offers outstanding performance and a genuine motorsport sensation. The driving element is a 444 hp high-performance TwinPower Turbo inline 6-cylinder petrol engine. Highly refined and perfectly coordinated features such as the specifically tuned Adaptive M suspension, the optional M Carbon ceramic brake or the Michelin 19'' Cup 2 tyres guarantee supreme agility and sporty driving dynamics – for adrenaline-charged driving pleasure on both the road and racetrack. A manual and a M double-clutch gearbox are available. Exclusive interior details made of Carbon (CFRP) optimise the weight and aerodynamics, conveying an impression of superior athleticism. In addition to the roof and rear diffuser, the M-specific Carbon elements also include a rear spoiler, a front splitter and the mirror caps. Painted in body colour, the M Carbon front apron with central air outlet additionally reduces the weight and emphasises the exclusivity as well as the powerful and sporty design of the BMW M2 CS. A powerful appearance that is consistently pursued on the interior with sporty M features such as the weight-optimised lightweight construction sport seats, the Alcantara-coated interior trim strips and the optional M Alcantara steering wheel.

BMW M240i COUPÉ.
Design and driving dynamics of the BMW M240i Coupé.
The sporty character of the BMW M240i Coupé is characterized by highly developed drive train and chassis components as well as striking M specific design features in the exterior and interior – for strong performance and an even stronger appearance.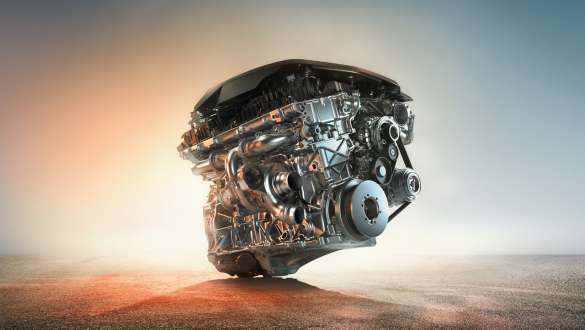 M TwinPower Turbo 6-cylinder petrol engine.
Six cylinders, 3.0-litre capacity. Unique agility and high everyday utility. United in one drive system that clearly shows its exceptionally sporty DNA. The M TwinPower Turbo inline 6-cylinder petrol engine inspires with spontaneous response and high torque even at low engine speeds. The result is a maximum torque of 369 ft-lb and an acceleration that will steal your breath away. The characteristic sound of the BMW M240i Coupé also acoustically underlines the exceptional talent of its power unit.
M Sport suspension.
The M Sport suspension is characterized by sport suspension settings, and on cars with rear-wheel drive, it includes a chassis lowered by around 10 millimetres. It features shorter suspension springs and tighter damper settings, as well as harder stabilizers. Together these result in even more direct settings that facilitate a particularly dynamic driving style.
Variable sport steering.
The Variable sport steering with Servotronic creates a direct and agile steering response and ensures less physical effort is required to turn the wheel. It reacts to the angle of the steering wheel with varying steering ratios. This improves handling when driving more dynamically and reduces the effort needed to steer when parking and turning.
BMW xDrive*.
The intelligent BMW all-wheel drive system xDrive* distributes the propulsive force smoothly and variably to the front and rear wheels – for a bonus in traction, driving dynamics and safety in all situations. To further improve agility, this electronically controlled power distribution also counteracts any understeering and oversteering when cornering. * BMW xDrive is optionally available.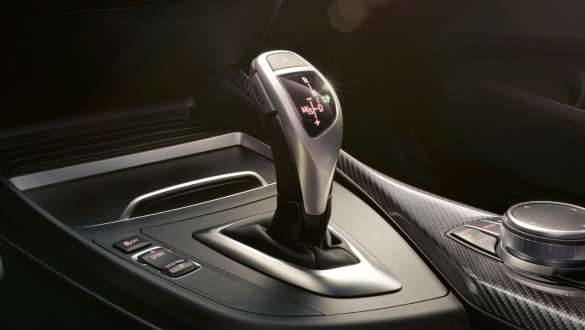 Steptronic Sport transmission.
The 8-speed Steptronic Sport transmission permits very sporty gear shifts. Both as an automatic version as well as manually by selector lever or shift paddles – for comfortable cruising or a very dynamic driving style. In SPORT Mode and with the selector lever in the left-hand shift gate S/M, the gearshift sequences are designed for maximum performance.
M Aerodynamics package.
The M Aerodynamics package underscores the vehicle's athleticism and modifies its airflow. The package includes a front apron with larger air inlets, special side skirts and a rear apron with a diffuser insert. The tailpipes are chrome.
M specific design elements in the interior.
Exclusive M specific design elements in the BMW M240i Coupé bring together a sporty atmosphere and exceptional style. The ultra-modern instrument panel bears a digital model designation and offers an optimum overview of all relevant driving information.
Sport seats.
Take a seat and take off: like every other detail of the interior, the ergonomically shaped sport seats with M model stitching stand for the aspiration to achieve supreme performance while offering the driver maximum seating comfort. The upholstered M knee pads perfect the level of comfort – on long journeys, in particular, they optimise the position of the driver's legs.
Door sill finishers with M240i designation.
An unbeatable first impression: as you enter, the evocative door sill finishers with model designation set fascinating accents and leave no doubt as to which league you are travelling in.
BMW 2 SERIES COUPÉ M MODELS: CONNECTIVITY AND DRIVER ASSISTANCE.
Innovative technologies and driver assistance systems for maximum comfort and safety.
The BMW 2 Series Coupé M Models not only score with their exceptional performance. They also offer a wide range of smart driver assistance systems, connectivity features and digital services.
Driving Assistant.
Driving Assistant combines the Lane Departure Warning and approach control warning systems. When travelling at speeds between 10 and 60 km/h, the approach control and person warning with city braking function issues a warning if there is a risk of collision with vehicles or pedestrians, and brakes the vehicle in the event of an emergency. At speeds above approx. 70 km/h, the Lane Departure Warning draws the driver's attention to an unintentional lane change by means of slight vibrations of the steering wheel.
Concierge Service.
Concierge Service puts the driver through to a BMW Call Centre employee at the touch of a button. The employee can locate a particular restaurant, the closest cash dispenser or an emergency pharmacy and send the address details directly to the car's BMW navigation system.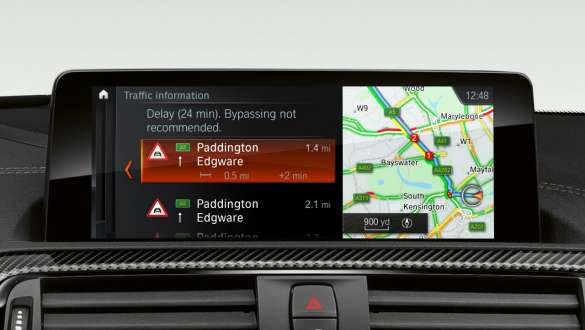 Real Time Traffic Information.
Real Time Traffic Information (RTTI) collects current traffic information about motorways, main and country roads and the most important urban routes. It relays information about delays and dangers almost instantly. The best alternative routes are suggested accordingly. On-Street Parking Information is included, making the parking space search more efficient.
Preparation for Apple CarPlay®.
Preparation for Apple CarPlay® supports the convenient and wireless use of selected iPhone® functions in the vehicle. This allows smartphone content and functions such as music, iMessages/text messages, telephone, Siri, navigation and selected third-party apps to be displayed and operated via the vehicle's user interface and via Voice control.