BMW SERVICE SOLUTIONS: BEST FOR YOU, AND YOUR BMW.
You and your BMW are inseparable. BMW Service is here to help ensure things stay that way over the long haul. With premium solutions ranging from No-Charge Scheduled Maintenance and BMW Express Service, to Service Inclusive and BMW Value Service Packages, there are numerous options available to help you make the journey ahead care-free.

Read more
YOUR PLANS, OUR SOLUTIONS.
BMW Services.
Every driver is different, every BMW is different, and so too is the journey that you experience with your BMW. Every bit as individual are the range of BMW Services, designed to offer you specialized care at fair, transparent prices. The unprecedented quality standards of our BMW Service Specialists combined with innovative workshop technologies and Original BMW Parts help ensure that your BMW continues to perform as you would expect it to. Simply select the service that best suits you – and look forward to all the driving pleasure that awaits you on the road ahead.

Read more
"…Friendly, fast, efficient service! BMW Service personnel work hard to please the customer and exceed all expectations!..."

M.F. British Columbia
4 GOOD REASONS FOR BMW SERVICES.
01

Carefree and safe

02

Exclusive and premium service in a relaxed, comfortable environment

03

Attractive pricing on tailor-made services to match you and your BMW

04

Guaranteed expertise: BMW Service Specialists, Original BMW Parts, and the highest quality standards
BMW NO-CHARGE SCHEDULE MAINTENANCE.
Less Worries, More Freedom.
Every new BMW comes with No-Charge Scheduled Maintenance*, which covers many of your vehicle's essential servicing needs at no additional charge. Maintenance may be carried out at any authorized BMW Retailer or BMW Service Centre in Canada, where BMW Certified Technicians will service your vehicle using only Original BMW Parts.

Maintenance includes:
Oil and filter change
Vehicle service check
Service or replacement of air, fuel and microfilters, spark plugs and brake fluid.

BMWs purchased from an authorized BMW Retailer in Canada are covered by No-Charge Scheduled Maintenance for a period of 4 years or 80,000 kilometres**, whichever occurs first.

Log in to My BMW to check the status of your vehicle's No-Charge Scheduled Maintenance service.

*The maintenance schedule intervals are based on normal driving conditions and operation. Additional maintenance not identified by the vehicle's on-board maintenance system, or wear and tear items such as brakes, clutches, and wiper blades will not be covered.

**Coverage begins on the date of sale, or the date the vehicle is placed in service as a demonstrator or company vehicle, whichever comes first.
BMW VALUE SERVICE PACKAGES: RETAIN VALUE AND DRIVING PLEASURE.
Together with your BMW, you've been on many roads and many adventures – all representing different chapters of your shared story. A story that is far from ending. Because with BMW Value Service Packages, you can keep your BMW running smoothly on the road ahead with attractive and transparent prices, and care that is perfectly tailored to your needs.

Read more
Your benefits at a glance.

Tailored to your BMW model and your unique needs.
Premium services including oil, microfilter, brake services, and more.
Attractive and transparent all-inclusive package pricing.
Specialized BMW Service Technicians who only use Original BMW Parts.
THE BEST FEELING IS NOT HAVING TO WORRY.
Extend your scheduled maintenance with an extended coverage option that can double your allotted coverage period. Service Inclusive consists of maintenance work and services for your BMW (including oil, labour, and all necessary Original BMW Parts) specifically related to the following:

Engine oil change including oil filter
Replacement of air filter
Replacement of fuel filter
Replacement of micro filter
Replacement of spark plugs
Replacement of brake fluid
Service vehicle check




BMW Service Inclusive Scheduled Maintenance includes package options that can extend up to 8 years or 160,000 kilometres (whichever comes first). With pricing starting from $530*, there is a solution suitable for all your driver needs. BMW Service Inclusive must be purchased before the vehicle model is 4 years old/ reached 80,000 kilometres.

Log in to My BMW to check your vehicle's maintenance status.

*For BMW Service Inclusive pricing and package options for your BMW, contact your nearest retailer.

Read more
FOR THOSE WHO WANT IT ALL: SERVICE INCLUSIVE PLUS.
In addition to the services included with the No-Charge Scheduled Maintenance and Service Inclusive options, Service Inclusive Plus includes these additional wear-and-tear repairs:

Front Brake Pads and Discs
Rear Brake Pads and Discs
Clutch (if worn)
Windshield Wiper Blades

BMW Service Inclusive Plus must be purchased before the vehicle model is 4 years old/reached 80,000 kilometres.

Log into My BMW to check your vehicle's maintenance status.

*For BMW Service Inclusive Plus pricing and package options for your BMW, contact your nearest retailer.
Read more
* BMW Service Inclusive Plus offers are only available directly when purchasing your new vehicle.
Read more
"…The service technicians are knowledgeable & the helpdesk associates are awesome! I will still keep coming to BMW for…excellent service…"

M.B. Mississauga, Ontario
EXPERIENCE SERVICE AT ITS FINEST.
A BMW Service Advisor will invite you to relax in a Customer Lounge while BMW Certified Technicians work on your vehicle. Enjoy a beverage, surf the Internet, read the newspaper, or watch TV. And if you're interested in one of the latest BMW models, you can tour the showroom or take a test drive during your visit.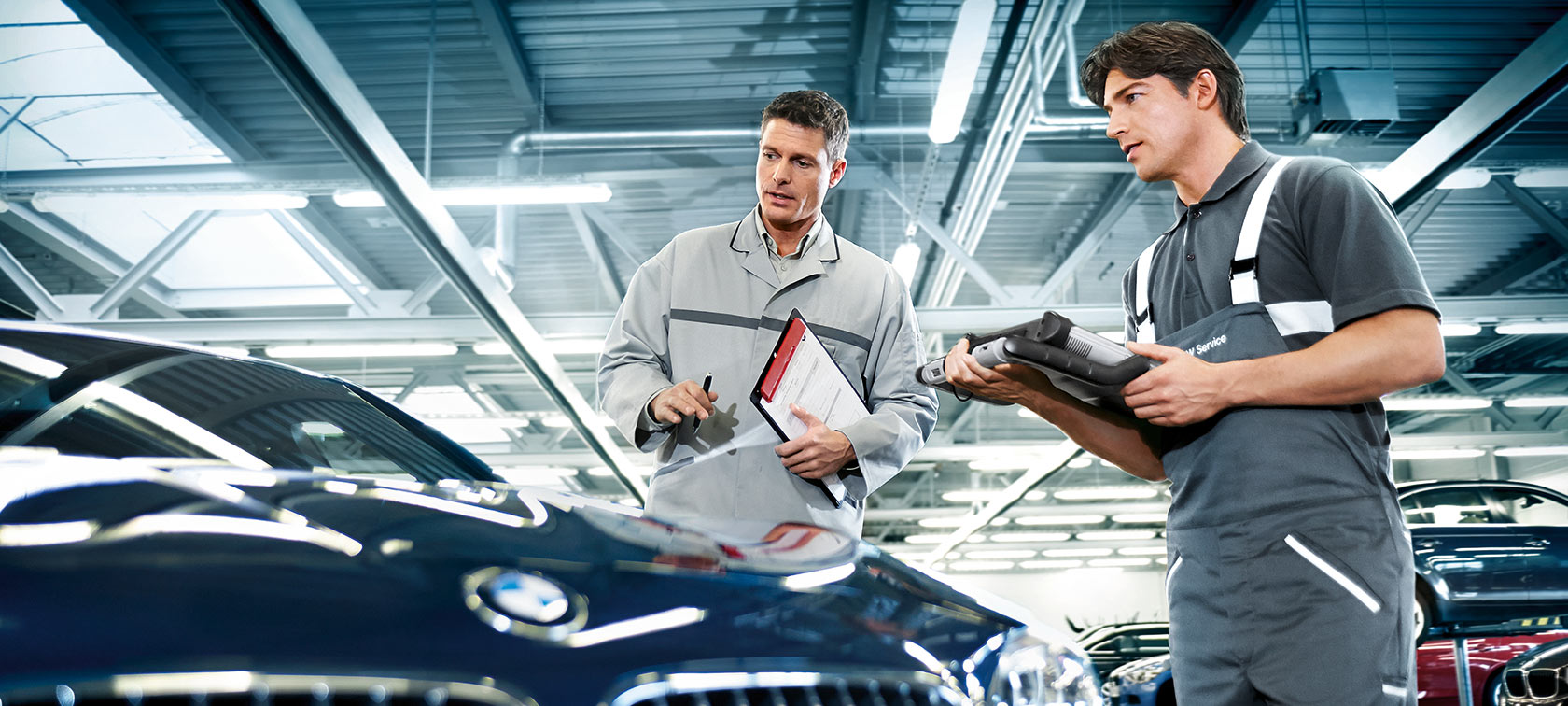 CHECK YOUR BMW FOR OUTSTANDING SAFETY RECALLS.
BMW is committed to providing the highest level of safety,reliability, and performance to ensure you enjoy The Ultimate Driving Experience. From time to time, recall notices are issued that may require repair or replacement. Make certain your BMW is up-to-date and click below to search existing recall campaigns.